Cardiff council staff sick pay cuts ruled out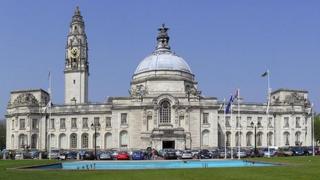 Cardiff council has ruled out proposals to withhold pay for the first three days staff are off sick.
Sick pay cost Wales' biggest council £15m in 2011-12 when its 15,246 full and part-time workers averaged 11.49 days off.
Unions had criticised the proposal from a task group which looked into ways of tackling short-term absence from work.
The Labour-run authority said the idea was ruled out during a scrutiny committee meeting.
The task group chaired by councillor David Walker had suggested docking workers' pay for the first three days they were off sick.
It said staff would be eligible for pay on the fourth day if they had "fully complied with sickness reporting arrangements".
Mr Walker, leader of the opposition Conservative group, said staff absenteeism figures had been "consistently high" for a number of years at the council and action was needed to tackle it.
The task group's idea - one of 19 recommendations in a draft policy report on absenteeism - was considered on Wednesday by the policy review and performance scrutiny committee.
Russell Goodway, cabinet member for finance, told the meeting there was "no prospect" that the cabinet would agree to withholding pay for the first three days.
A Cardiff council spokesperson told BBC Wales that Mr Goodway had "ruled out categorically the introduction of any such plans, and outlined the cabinet's singular opposition to them".
Elizabeth Clark, chair of the scrutiny committee, said she was pleased to have the reassurance that the proposals would not be introduced.
"If somebody is off sick with a miscarriage or after an accident and they are on the lowest wage they would be losing about £150 over the three days - for somebody on the limit that is a lot to lose," she said.
The move was also been welcomed by Unison and the GMB, the two biggest unions within the council.
But they added that they still have concerns over other aspects of the draft policy, including plans to discipline managers who fail to tackle sick-leave within their teams.
The cabinet will now bring the draft policy before the full council on Thursday, 6 December.