Cwm Taf Health Board criticised for Lilian Yates 'failures'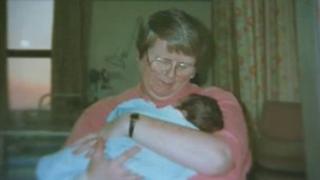 A south Wales health board has been severely criticised by a watchdog after a woman died of a blood clot two days after she was discharged from hospital.
The death of Lilian Yates could have been prevented if doctors fully considered a test indicating a clot, the public services ombudsman found.
Mrs Yates, 62, from Talbot Green, was sent home from Royal Glamorgan Hospital's A&E in May 2010.
This was despite a blood test showing she was at high risk of thrombosis.
She died on Sunday 16 May and her family was contacted the following day asking Mrs Yates to attend the hospital for further tests.
Cwm Taf Health Board apologised and was ordered to pay the family £5,000.
The investigation by ombudsman Peter Tyndall concluded the doctor who discharged Mrs Yates, and the consultant with overall responsibility for her care, did not fully take into account the test result.
It showed she was at high risk of thrombosis. The result had been seen by a nurse before Mrs Yates was discharged.
The ombudsman said: "The test result does not appear to have been appropriately considered, if at all.
"This failing gave rise to a missed opportunity to make the correct diagnosis and to treat [Mrs Yates] appropriately.
"The treatment that should have been given might have prevented her death."
Additional failings
He said the actions were below an acceptable standard of care.
In upholding the family's complaint, the ombudsman said he also identified a number of additional failings on the part of the health board.
Cwm Taf Health Board apologised for the distress caused and said it was working to tighten procedures.
The authority has also been told to pay £5,000 to her family.
Cwm Taf chief executive Allison Williams said: "We reiterate our sincerest sympathies to Mrs Yates's family following her death in May 2010, and apologise for the distress caused as a result of the failings identified within the report.
"We accept the Public Services Ombudsman's findings in respect of this case and work is ongoing within the health board to address the report's recommendations."
The family said the circumstances of the death left them "sad and disappointed" but they hoped that lessons can be learnt.
Cwm Taf Health Board primarily covers the local authority areas of Merthyr Tydfil and Rhondda Cynon Taf.