Call to cut speed limit to 20 mph on Cardiff residential streets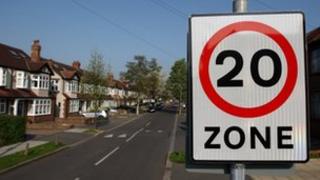 A call has been made for the speed limit on residential streets in Wales' capital city to be slashed to 20 mph.
Deputy leader of Cardiff council Ralph Cook said "saving lives and reducing the cost to society" was his priority.
He wants all residential roads near schools, shopping centres and parks to have their speed limit lowered.
Mr Cook wanted to focus on areas of the city where there had been more deaths on the road, including St Mellons, Llanrumney and Ely.
The Institute of Advanced Motorists (IAA) said 20 mph limits were "sensible" if they were not blanket limits.
Mr Cook said: "There's no proposal yet, I've put out a discussion document to gather some feedback.
"After Christmas I want to put something together to put to cabinet and council."
"I want schools, shopping areas and residential areas made safer for pedestrians."
'Reduce deaths'
Another option to be looked at is the creation of large 20 mph go-slow zones, which would mean building traffic calming measures, such as speed humps every 50 metres. This has been introduced in parts of London and Hull.
Mr Cook said erecting new 20mph signs would cost £1,000 per kilometre (0.6 mile) and the go-slow zones would cost £250,000 per kilometre.
"That's very cheap in terms of council expenditure," he said.
"Every death [on the road] can cost £1m and all of a sudden that cost [20mph zones] seems quite small and you reduce the likelihood of deaths forever."
Tim Shalcross, head of policy at the IAA, said: "It sounds sensible, it makes absolute sense.
"Where there is a blanket speed limit then that's when the trust between the motorist and the authorities breaks down."