Darren and Jack Williams: Gwent Police criticised after salon shooting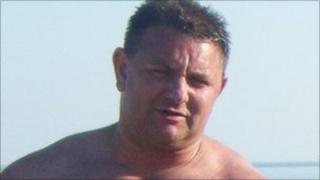 An attack on a woman gunned down in her hairdressing salon by her estranged husband could have been prevented by Gwent Police, a watchdog says.
Darren Williams, 45, was found hanged in wood hours after he shot and injured three women including estranged wife Rachel in Newport in August 2011.
Their son, Jack, 16, was found hanged in the same woodland six weeks later.
A separate review also found failings by police and children's services to safeguard the boy's welfare.
The Independent Police Complaints Commission (IPCC) said Gwent Police's handling of domestic abuse needed to improve and upheld four out of 13 complaints against the force.
It said the force took "too long" to arrest Mr Williams after he was initially accused of assaulting his wife on 9 July.
Poor communication between police departments also meant that Mr Williams' breach of bail conditions after he appeared in court were not acted upon, the report found.
It said that if action had been taken it was possible that he would have been remanded in custody.
Instead, Mr Williams was on bail at the time of his shotgun rampage targeted at his wife.
On 19 August, he armed himself with a double-barrel shotgun and burst into the Carol Ann Hair salon on Malpas Road, Newport, where Mrs Williams worked.
Inside the salon, his wife was tending to customer's hair when he burst in the door and opened fire.
Mrs Williams, a mother of two, was shot in the knee. Two customers - one in her 90s - escaped with only minor injuries.
It sparked a six-hour operation in Newport involving armed police which ended when his body was discovered hanging at nearby Brynglas woods.
Gwent Police referred the matter to the IPCC, which has looked at events leading up to Mr Williams' death and has made recommendations to improve how the force deals with domestic abuse incidents.
'High risk'
The report outlined a history of domestic violence.
It said that Mrs Williams was assaulted on 9 July and between then and 18 August, seven calls were made to the Gwent Police control room.
Mrs Williams also visited her local police station twice to complain about violence from her husband.
Mr Williams was arrested on 6 August for assaulting her and four days later he was arrested again for making threats to kill her.
He appeared before magistrates and was released on bail, although this was opposed by police and the Crown Prosecution Service (CPS) because Mrs Williams was deemed to be at "high risk of significant harm".
After Mr Williams was released on bail, the report said a detective constable was informed he was breaching his bail conditions. It was believed no action was taken.
The report also found that poor communication between some police departments meant that Mr Williams' bail breaches "were not treated with sufficient rigour".
It recommended improving the way information about domestic violence and bail breaches is passed between relevant force departments.
It also said the way control room staff log urgent calls needs to be looked into, while domestic abuse training should be provided to officers.
Following the investigation, the IPCC said that Gwent Police will take action against two police constables and a sergeant.
The review also found that there was a "case to answer" against another sergeant who had retired during the investigation.
'No support'
A separate serious case review into the care of the couple's son Jack after the shootings has also been published.
The independent review - which looked into the role of a number of agencies including Gwent Police, Aneurin Bevan health board and Newport council - found that support for the teenager was not put in place after his father's death.
Little action was taken even after he was found to have self-harmed and there were a number of shortcomings in the way agencies shared information in the run-up to Jack's death.
The report said that Newport Safeguarding Children Board and Newport Community Safety Partnership should improve the way it deals with children and young people living with domestic violence.
Gwent Police said it is fully implementing the recommendations in the IPCC report.
Assistant Chief Constable Simon Prince said: "Gwent Police are continually striving to improve our response to domestic abuse incidents which includes increased and wider training around identification and log closure; increased sharing and scrutinising of domestic-related incidents."
Stewart Greenwell, chair of Newport safeguarding children board and strategic director with Newport council, said the serious case review highlighted "some practice failures and makes recommendations which have been accepted by all of the agencies involved".
"It is important however, that these are considered in context and there has been much learning from this process which is already being applied to professional practice," he added.
Aneurin Bevan health board and Newport council's children's services department also said changes had been made.