Darren and Jack Williams: IPCC and case review reports due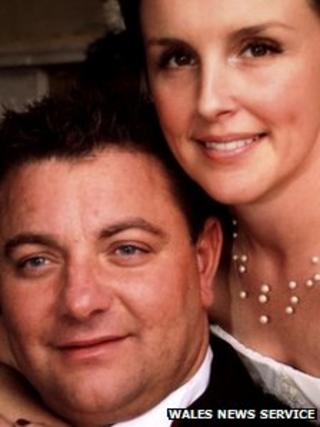 Reports are to shed light on the case of a gunman found hanged after trying to kill his wife, and follow-up care for their son, who died weeks later.
Darren Williams, 45, was found dead after shooting his estranged wife Rachel and injuring two other women in a Newport hair salon in August 2011.
Their son, Jack, 16, was found hanged in the same woodland six weeks later.
A serious case review and Independent Police Complaints Commission reports are published separately on Wednesday.
Mr Williams' shotgun rampage aimed at his estranged wife, Rachel, sparked a six-hour operation in Newport involving armed police which ended when his body was discovered at nearby Brynglas woods.
Gwent Police referred the matter to the Independent Police Complaints Commission (IPCC), which has looked at events leading up to Mr Williams' death.
After his death, it emerged Mr Williams was jailed for four months in 2004 after police discovered what was described as an arsenal of weapons at his home in Newport.
It included a stun gun, a .22 pistol, a machete, a hunting knife, canisters of CS gas and bullets.
Almost six weeks after his death, the body of his son was found in the same location as his was discovered.
Jack Williams, a former pupil at Newport High School, had been staying with his father's sister while his mother was in hospital recovering from her husband's attack.
Questions have since been raised about whether the teenager had been given enough support.
A few days after his father's death, Jack cut his wrists and was taken to hospital. After being discharged he was offered counselling and was visited by a social worker from Newport council.
His case was closed two weeks later.
His family told told BBC Wales' Week In Week Out programme that they believed that decision was wrong.
Jocelyn Davies, Plaid Cymru AM for South Wales East, told the programme Jack's death raised serious questions about whether he was given enough support by social services and the NHS in the weeks before his death.
Inquests into both deaths have been opened and adjourned.