Yaseen Ali Ege death: Father killed son not me, mother Sara claims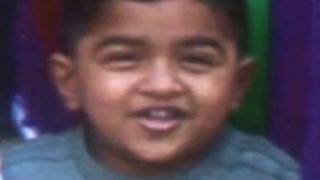 A woman accused of murdering her son after he failed to learn passages of the Koran has told a jury it was her husband who beat the boy to death.
Sara Ege, 33, said Yaseen Ali Ege was killed by his father Yousef Ali Ege, seven, when he tried to intervene in a fight between his parents.
Mrs Ege broke down in Cardiff Crown Court as she described seeing Yaseen bleed from the mouth and turn blue.
She denies murder and setting light to Yaseen's body in July 2010.
Mr Ege denies causing or allowing the death of a child by failing to protect him.
Mrs Ege told the court: "Me and Yousef were arguing in the playroom and he punched me and kicked me to my stomach on the floor.
"I was screaming and Yaseen came into the playroom and he tried to help me by saying 'Don't hurt mummy'.
"Yaseen was beaten as he tried to help me and he was kicked twice.
"I said 'We need to take him to the hospital,' but Yousef said 'No'.
"I put him on the floor and he just turned blue and green stuff was coming from his mouth. He was dead."
Mrs Ege said after Yaseen died, she was forced by her husband to make a false confession to the police accepting she had killed him.
'Threatened'
Yesterday the trial heard Mrs Ege say her husband had beaten her regularly throughout their marriage and had also beaten Yaseen.
She told the court: "I wasn't responsible for those injuries to Yaseen.
"None of what I said was true. I lied to the police because I was threatened by Yousef and his family.
"They said if I didn't take the blame they would kill me and my family."
The jury had previously heard evidence from a video recording of a police interview with Mrs Ege following Yaseen death in which she confessed to beating her son with a stick on regular occasions, including the day of his death.
Some beatings were triggered because he could not memorise the Koran well enough, the trial heard.
After Yaseen collapsed and died, she said in the recording she decided to burn his body.
Firefighters called to the family's house initially thought Yaseen had died in an accidental fire.
A post-mortem examination revealed he had died of multiple injuries after being beaten with a blunt instrument some hours before the fire began.
The trial continues.