Yaseen Ali Ege death: Father 'beat son', mother claims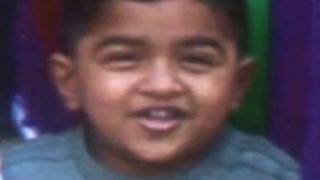 A mother accused of beating her son to death and setting fire to his body has told her trial at Cardiff Crown Court it was her husband who beat their son.
Sara Ege, 33, denies murdering Yaseen Ali Ege, seven, at their home in Cardiff in July 2010 because he was not learning the Koran quickly enough.
Mrs Ege said her husband Yousuf Ege, 38, had beaten her throughout their marriage as well as their son.
Mr Ege denies a charge of causing the boy's death by failing to protect him.
Mrs Ege told the jury Yaseen had been studying the Koran since he was four years old and his teacher had told her the boy was doing well.
Giving evidence in her defence, she said Mr Ege had been violent towards her right from the start of their marriage.
When he beat Yaseen she did not take him to the doctor because she feared for her own safety and that her son would be taken away by social services.
Multiple injuries
The trial had previously heard that Mrs Ege had initially told police she had regularly beaten Yaseen because he was not learning the Koran well enough and that on the day he died she had set a fire to destroy any evidence.
She later retracted that version of events.
Firefighters called to the home in Canton on 12 July initially thought the boy had died in an accidental fire, but a post-mortem examination revealed he had died of multiple injuries after being beaten with a blunt instrument some hours before the fire began.
The trial continues.