Yaseen Ali Ege death: Mother beat son for 'slow' Koran study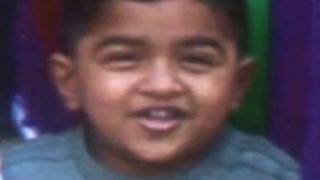 A woman accused of murdering her seven-year-old son for failing to learn the Koran told a jury how she became frustrated at his lack of progress.
Sara Ege denies murdering Yaseen Ali Ege and setting fire to his body in July 2010.
Mrs Ege, 33, told Cardiff Crown Court that she could read the entire book when she was her son's age.
She said she was keen for Yaseen to impress an imam with his knowledge but he had wanted to play and fell behind.
Mrs Ege told the jury that as a child she had taken part in competitions to display knowledge of Islam, including recitation from the Koran.
"Memorising the whole of Koran is a great reward for the whole family," she said.
"It brings honour and increases the standing of the whole family in the local community."
The court has heard how fire crews called to deal with the blaze at the family home in Pontcanna, Cardiff, on 12 July 2010 initially thought Yaseen had died in the fire.
But tests later showed he was dead before the blaze started and had suffered months of physical abuse.
Frustration
In a video recording of her police interview shown earlier, the jury heard Mrs Ege say: "I was trying to teach him the Koran but he was not very good.
"I was getting more and more frustrated, if he didn't read it properly I would be very angry - I would hit him.
"We had a high target, I wanted him to learn 35 pages in three months. I promised him a new bike if he could do it.
"But Yaseen wasn't very good - after a year of practice he had only learned a chapter."
Mrs Ege, a university graduate who grew up in India before marrying British husband, Yousuf, 38, was becoming more and more frustrated with her son's inability to memorise passages of the Koran, the court heard.
She told officers: "I was getting all this bad stuff in my head, like I couldn't concentrate. I was getting angry too much. I would shout at Yaseen all the time.
"I was getting very wild - I use to beat him with a stick."
Devil
The court was told the defendant also hit her son with a hammer, a rolling pin and a slipper as well as repeatedly punching him.
The jury has also heard that she would also lock him in the shed, tie him to a door, and force him to do push ups.
The court was told that months after her son's death, Mrs Ege told a doctor that she felt "100% better" after he died, believing she been told to kill him by Shaitan - an Islamic name for the devil.
She said: "It is Shaitan - it is the devil which is telling me to do all these bad things.
"I have become so harsh, I even killed my own son."
Her GP recorded her as saying: "It is like something has been released. For three or four months I have not been normal."
The jury has heard Yaseen was driven to a mosque by his father for Koran practice before and after school. Mr Ege said he never saw his wife raise a hand the boy.
He is accused of causing the boy's death by failing to protect him.
Both defendants deny the charges. The trial continues.