Sea Lawn hotel, Ogmore: Demolition sparks public inquiry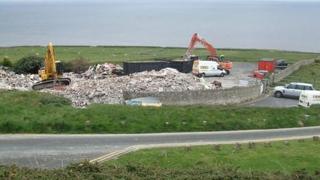 An historic hotel demolished without approval has sparked a public inquiry after the developer was refused permission to build flats on the site.
The Sea Lawns Hotel in Ogmore-by-Sea was knocked down before the Vale of Glamorgan council had ruled on an application to go ahead with demolition and build flats on the site.
The developer has lodged an appeal against the subsequent decision to refuse permission to build.
The inquiry will be held in February.
Local people keen to save the hotel for use as a pub were taken by surprise when the premises were knocked down in May, as the site was the subject of an undetermined planning application.
The council subsequently refused permission in July, saying the developer John Williams should not have taken any action before the planning committee returned a decision.
It also rejected the request to build flats. The demolition is now being investigated by the council.
Marcus Goldsworthy, operational manager for development control at the Vale of Glamorgan, said: "Unfortunately, during the course of processing, the application the applicant went ahead and demolished the building without the requisite permission and this is also being fully investigated.
'Over-development'
Audrey Preston, chair of St Brides and Ogmore-by-Sea community council, told BBC Wales she had been very disappointed when the hotel was demolished.
"I feel it was a very bad move. What we don't want is flats there in Southerndown. There are some there already, and they are enough."
She said there were three lots of flats nearby, adding: "Some of those are empty already and that's within a mile and a half.
"It's over-development and there is not a necessity there. It's just plain common sense.
"What [the council] wanted was to have a public house there. We would have liked a pub for the people.
"It can't be left as it is. We just don't know what the answer is. When you have got a building there you can convert it, but once it's knocked down it's just a plot, and you may not get permission for a new building."
Vale of Glamorgan MP Alun Cairns has previously supported the campaign to keep the hotel.
He told the BBC he shared local people's concerns, adding: "I fervently supported the campaign to oppose the various planning proposals made over recent years and have represented the local community in front of the planning inquiry in the past.
"I shall of course be making my own representation to the planning inspector with regards to this latest appeal.
"I'm keen to do all I can to support the opposition to the appeal, and am already in contact with the previous key local campaign organisers."
Mr Williams' agent Michael McLoughlin said the developer did not wish comment on the situation.