Yaseen Ali Ege death: Jury told he should have been at picnic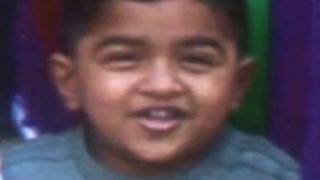 A boy whose mother is accused of murdering him for failing to learn parts of the Koran should have been at a teddy bears' picnic on the day he died, a jury has been told.
Yaseen Ege, seven, missed school because he did not have a teddy bear to take to the children's party, Cardiff Crown Court heard.
Sara Ege, 33, denies beating him to death and setting fire to his body in July 2010.
The trial continues.
The jury heard that his father Yousef Ali Ege, 38, told police: "He was not at school on the day he died because it was a teddy bears' picnic.
"Yaseen didn't have a teddy bear so he didn't go.
"The last time I saw my son he looked fine. He was very happy and had written out a list of things he was going to do in the summer holidays."
The court heard how Mrs Ege used a stick to beat her son "like a dog" if he could not recite passages from the Koran.
In a video recording of her interview with police Mrs Ege said: "I was trying to teach him the Koran but he was not very good.
"I was getting more and more frustrated, if he didn't read it properly I would be very angry. I would hit him.
"We had a high target, I wanted him to learn 35 pages in three months. I promised him a new bike if he could do it.
"But Yaseen wasn't very good - after a year of practice he had only learned a chapter."
Mrs Ege and her husband wanted Yaseen to become "Hafiz", an Islamic term for someone who memorises the Koran.
But he preferred to play with his friends and fell behind with his studies.
House fire
His beatings were so brutal, the jury was told, Yaseen died from his injuries and his mother tried to burn the body to destroy the evidence.
Emergency services were called to the family's home in Pontcanna, Cardiff, and it was initially thought he had died in an accidental house fire.
Barbecue lighter fuel was found on Mrs Ege's clothing when she was arrested after the post mortem examination.
The court has previously been shown a video confession from her to police within days of Yaseen's death.
In the video, she describes how her son collapsed, still reciting the Koran.
A sobbing Mrs Ege was allowed to leave the dock while the harrowing hour-long footage was shown.
She later retracted the confession.
Mrs Ege denies murdering Yaseen and burning his body to hide what she had done.
Her husband, the boy's father, denies causing or allowing the death of a child by not stopping his wife's beatings.