Bingo caller Terrence Hutchings was benefits cheat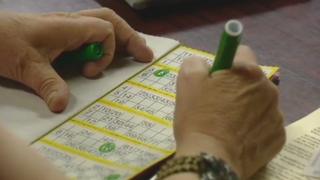 A man has been convicted for claiming almost £56,000 in benefits over five years while working as a bingo caller.
Terrence Hutchings, 65, of Trealaw, Rhondda, did not declare the work because it was less than 16 hours per week and he thought he did not need to, Merthyr Tydfil Crown Court heard.
He admitted four counts of benefit fraud from April 2002 to April 2007.
Hutchings was given an eight-month suspended sentence and ordered to complete 120 hours unpaid work.
The court was told Hutchings was "evasive and somewhat vague about his situation" when he was interviewed following a tip-off about his work at the Top Ten bingo hall in Tonypandy.
Alexander Greenwood, prosecuting, said: "In interview Hutchings said that he believed he could work 16 hours a week before having to declare that he was working.
"He worked 13 hours a week and said he had avoided working extra shifts to avoid having to declare it.
"But it was a mistaken belief because he should have declared any hours he was working."
Hutchings, a father-of-two, claimed pension money, housing and council tax benefit, income support and incapacity benefit over a five-year period, the court heard.
The court heard the four benefit fraud charges amounted to £55,987.58.
Steven Donoghue, defending, said: "He is utterly crestfallen because of his appearance here and the realisation a prison sentence may follow.
"He never lived the high life. This is not a champagne swilling individual living on state benefits."
Judge Richard Twomlow told the defendant: "The effect of these proceedings have been salutary and significant."