Danescourt ram-raid: Cigarettes stolen from Co-operative store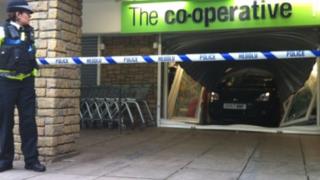 Thousands of pounds worth of cigarettes have been stolen in a ram-raid on a Cardiff supermarket, police say.
A stolen vehicle was driven through the shutters of the closed Co-operative store at Radyr Court Road, Danescourt, just before 05:00 GMT on Thursday.
South Wales Police believe three men were behind the burglary and driving the stolen blue Ford Fiesta through metal shutters and a glass frontage.
They left the scene on foot heading towards Danescourt medical centre.
The vehicle was still wedged inside the store on Thursday lunchtime.
Anyone with information on this incident, and in particular the whereabouts of the stolen cigarettes, is asked to contact South Wales Police on 101 or Crimestoppers anonymously on 0800 555 111.