Pontypridd lido: Paddling pool will be demolished despite opposition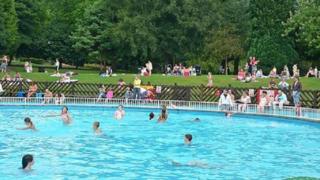 The demolition of a paddling pool in Pontypridd will go ahead as part of a £6.2m lido scheme despite a residents voting overwhelmingly to save it.
A community poll was held after campaigners noticed Rhondda Cynon Taf council's plans to redevelop and reopen the Grade II listed lido did not include the paddling pool next door.
The poll backed keeping the pool in Ynysangharad Park by 2,077 to 151.
But the council said it could not afford both the lido and the pool.
It said its proposals to renovate the listed lido include a modern, heated paddling pool, insisting it was not sustainable for the council to maintain the two facilities.
The council warned that changes to the lido plan could scupper the entire project.
Paul Cannon, deputy leader of the council and cabinet member for economic development, said: "The decision taken last night had to be taken as it was simply not possible to consider the two facilities side by side.
"The council already will need to invest a significant subsidy each year into a new lido facility to make that alone a viable facility.
"As the cuts to public sector funding continues to bite it is simply not possible to support any other course of action."
He added that the council appreciated and understood the views of the public and those expressed in the community poll last week, which is not binding.
Consultation
Campaigners previously said the result of the poll sent a strong message that residents wanted to keep the paddling pool.
Trallwn Liberal Democrat councillor Mike Powell commented on the result at the time, saying: "The poll is not legally binding, but morally the council surely have an obligation to the people they purport to represent and should take their opinions on board."
The council said it had already undertaken an extensive consultation on its plans with almost 800 people's views being given.
The new lido, which would be open for about four months a year, will include a new 25m pool, activity and splash pools, changing blocks and other facilities including a new cafe.
The original lido was built in 1927 in an arts and crafts style, and is the only listed lido to survive in Wales but closed in 1991.
The scheme has attracted £2.3m funding from the Heritage Lottery Fund, and the council is now hoping to secure additional European funding.