Yaseen Ali Ege death: Murder jury hears mother's 'confession'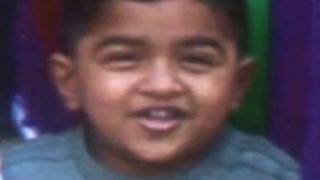 A woman accused of murdering her seven-year-old son for failing to learn parts of the Koran made a video confession which has been shown to a jury.
Sara Ege, 33, denies beating Yaseen Ali Ege to death and setting fire to his body.
Mrs Ege made a confession to police within days of Yaseen's death at their home in Cardiff in July 2010.
A Cardiff Crown Court jury listened as she described how he collapsed, still reciting the Koran. The case continues.
A sobbing Mrs Ege was allowed to leave the dock while the harrowing hour-long footage was shown.
In it, she described her son collapsing while still murmuring extracts from the Koran.
She said she believed he had fallen asleep and left him on a rug by his bed.
"He was breathing as if he was asleep when I left him," she said.
"He was still murmuring the same thing over and over again. I thought that he was just tired."
When she returned 10 minutes later she found her son shaking and shivering on the floor. He then died.
Within moments she said she decided to burn his body and ran downstairs to get a lighter and a bottle of barbecue gel.
'Very scared'
Unrecorded sections of interviews with Mrs Ege were also read out to the court by a police officer and one of the prosecution team's barristers, David Elias.
In them the defendant confessed that she was out of control and beat her son for almost no reason.
She said she had made vows to herself not to hit him but had repeatedly broken them within days.
A hush fell over the court as Mrs Ege described in interview setting the fire in the knowledge that her son still had swollen ribs from his beatings.
"At the time I was not thinking of anything, I was just very scared," she said.
"It is just the same thing over and over again, that I beat Yaseen when I used to take the stick.
"It was not my intention to do anything. I cannot explain, I loved my son so much.
"He was so good. He never, ever complained about anything."
She added: "I just blame my anger. I lost control. I cannot put all this together. There was no intention in me to harm my son."
'Confession' retracted
Mrs Ege said in interview that Yaseen had collapsed in a similar way about six weeks earlier and had been fine after a night's sleep.
Mrs Ege, of Pontcanna, Cardiff, later retracted the confession made to the police over several days in July 2010.
She denies a single charge of murder and a charge of perverting the course of justice.
Her husband, Yusef Ali Ege, 38, is on trial with his wife, accused of causing or allowing the death of his son by failing to act.
Yaseen's death was originally believed to have been a tragic accident, the court has heard.
It was only discovered later that he was already dead before the blaze had been lit.
The trial continues.