Baby Maisie Waters died after fed day's food in an hour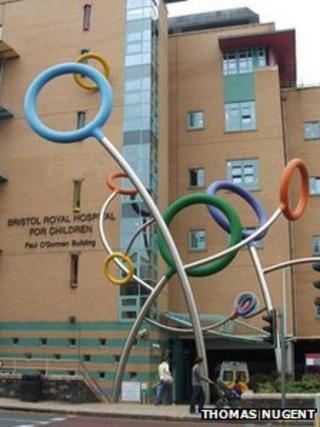 A seven-day-old baby with a congenital heart defect died after a nurse accidentally fed her a day's worth of food through a tube in one hour.
Maisie Waters' feeding machine was wrongly programmed, leading to her suffering cardiac arrest hours later.
Her parents, Laura Bennett and Ryan Waters of Ebbw Vale, Blaenau Gwent, had raised concerns about her care at Bristol Royal Children's Hospital.
Coroner Maria Voisin returned a narrative verdict at Maisie's inquest.
Maisie was born at the hospital after a planned Caesarean section on 16 August 2011 with an atrioventricular septal defect, meaning the walls in her heart were missing.
She was transferred to the hospital's paediatric intensive care unit for surgery and was fed by an infusion machine which dispensed a substance known as total parenteral nutrition (TPN) intravenously.
Nurses had to programme the machine with information about how much she should receive on an hourly and daily basis when food bags were changed.
The inquest at Flax Bourton, near Bristol, was told that nurse Martyn Woods had mistakenly entered the daily dose of 210ml under the hourly rate, meaning she was given 28 times the 7.5ml she should have received in one hour.
Mr Woods believed the mistake had happened when the machine beeped, which he thought indicated he needed to re-enter the 24-hour dosage.
He said: "The feed was due to carry on at the same rate as before so I didn't change it from 7.5ml per hour.
"When the machine bleeped at me I believed it was because it wanted me to re-input the total volume over a 24 hour period. I had not done that previously.
"As a safety feature if you don't confirm an amount it will tell you and then default back to where you put it in again. I thought it had done that.
"I recall entering 210ml again and restarting it."
'Paid no attention'
William Booth, matron and lead nurse for paediatric critical care services at the hospital, said: "The error occurred by incorrectly setting the infusion rate.
"It should have been 7.5ml per hour but it was actually set at a total volume of fluid to be infused, which was 210ml.
"The amount Maisie was supposed to receive over 24 hours she actually received in an hour."
Maisie went into cardiac arrest on 22 August and doctors were unable to revive her despite 45 minutes of CPR.
The inquest had heard from Laura Bennett that she had previously been concerned about some of the nurses' behaviour when caring for her daughter.
"While we sat watching over our daughter a nurse was making up her feed with another.
"They were talking, laughing and joking and paid no attention to the task at hand. They seemed as though they weren't concentrating," she said.
The inquest was also told the hospital did not follow guidelines requiring two nurses to double check rates of infusions on machines.
Two nurses were present when the bag was changed but only Mr Woods checked the infusion rate after telling his colleague she could return to another patient.
The inquest heard that it had not been usual practice for two nurses to check unless one nurse was new or requested help, but this had now become common practice.
Coroner Maria Voisin returned a narrative verdict which said: "Maisie was a patient in the Paediatric Intensive Care Unit. She was born with a heart condition which meant she required surgery.
"On August 22 she died when she was erroneously over infused with TPN."
She added that the hospital had carried out an immediate review of her death and quickly discovered an excessive amount of TPN had been given to Maisie.
Ms Voisin said because the hospital had already made changes to procedures there was no need to ask for further action.
Maisie's parents did not comment after the verdict.