Truck crashes through house wall in Gurnos, Merthyr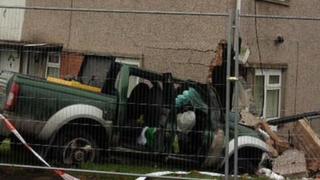 A woman and her son who were woken in the middle of the night by a loud bang went downstairs to discover their kitchen had been destroyed when a pick-up truck smashed into it.
Doreen Richards, 61, had been asleep for about an hour at her Merthyr Tydfil home before the crash happened.
The impact of the 4x4 left a gaping hole in the front of her home and also flattened a nearby lamppost.
A 20-year-old man has been arrested on suspicion of driving while drunk.
Ms Richards has lived in the house on the Gurnos estate for 25 years.
She said: "At about 1.30am we heard this really loud bang. I came downstairs and went into the kitchen and went berserk. It had gone right into the house.
"I couldn't stop shaking and my blood pressure was up and everything.
"It could have been a lot worse, but I am angry because my house is ruined and it has not long been done out."
Her son Ryan added: "Mum sometimes goes downstairs to get a drink to take back up to bed with her so she could have been in the kitchen.
'Extensive damage'
"I just remember hearing a massive bang and I followed mum downstairs and saw the jeep."
Ms Richards has now moved into a nearby house while her kitchen and front wall are being rebuilt.
A spokesman for South Wales Police said: "A 4x4 was in collision with a property, causing extensive damage.
"A 20-year-old man has been arrested on suspicion of driving whilst under the influence of alcohol. Two passengers were also involved in the collision, both aged 24."