Treorchy Male Choir: 65 years for Islwyn Morgan and Norman Martin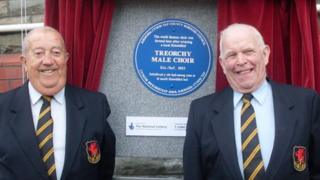 Two old friends are celebrating being members of one of Wales's best known choirs for 65 years.
Islwyn Morgan, 84, and Norman Martin, 88, rarely miss a Treorchy Male Choir rehearsal, concert or overseas tour.
Both joined the Rhondda choir in 1947 shortly after it was reformed after World War II, and are vice-presidents in recognition of their service.
Choir chairman David Bebb said the two tenors had shown "unbelievable dedication".
It is estimated that over the years the two friends, who both live in Ton Pentre, have appeared in almost 2,000 concerts, sung on over 90 commercial recordings, made 500 television and radio programmes, attended over 6,000 rehearsals and performed to audiences across the UK, Europe, Canada, USA, Australia and New Zealand.
They have performed alongside Ella Fitzgerald, Shirley Bassey, Tom Jones, Burt Bacharach, Katherine Jenkins and Julie Andrews and have also made guest appearances on the Royal Variety Show.
"The Treorchy Male Choir has played such a massive part in my life that I cannot imagine being without it," said Mr Morgan, who performs in the first tenor section.
"Due to my membership I've made lifelong friends, met some wonderful people and travelled the world - things I would never have done had I not been part of the choir."
Bombing raid
Second tenor Mr Martin added: "To think that one moment you're being introduced to the Queen and the next you're singing in the Sydney Opera House or visiting the White House. It is absolutely unbelievable.
"However, these are the type of experiences we've enjoyed simply because we're choristers of one of the world's greatest musical organisation."
As well as being a member Mr Morgan from Ton Pentre has been choir secretary for 20 years, whilst Mr Martin has been registrar and archivist for 40 years.
Mr Martin began his working life as a miner at Park Colliery, studying at night school to become an engineer before taking a lecturer's post at Rhondda College.
In 1941 he was one of many local residents who witnessed the Nazi Luftwaffe's bombing of Cwmparc and worked through the night to free people from the wreckage of their homes.
Mr Morgan joined the former Rhondda District Council as a clerk at the age of 16, and spent his entire working life there apart from two years' national service with the Royal Navy.
Choir chairman David Bebb paid tribute to their longest serving members.
"No words can possibly express the immense debt of gratitude we owe Islwyn and Norman for their unbelievable dedication to the choir for a combined 130 years.
"It is staggering to think that both men have served this choir for an absolute lifetime and continue to remain dedicated choristers despite the passing of the years."
Mr Bebb said it was a rarity for either to miss a rehearsal, let alone a concert.
"Their contribution to the choir knows no bounds and we look to them frequently for advice and support when decision-making takes place.
"Many of us have grown up with Islwyn and Norman regard them as the elder statesmen of the choir and we hold them in high esteem, not just as first-class choristers but true gentlemen," he added.