Cardiff hit-and-runs: Final farewell to Karina Menzies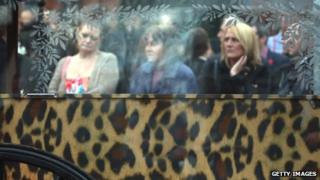 The horse-drawn carriage bearing Karina Menzies' leopard- print coffin drew up outside the Cardiff church carrying the large floral tribute spelling out "mum".
As the funeral service at the Church of the Resurrection in Ely got under way, it became ever more clear that family had meant so much to this 31-year-old mother of three young daughters.
It was three weeks ago that she died as she was walking with two of her girls, eight-year-old Ellie, and Tiana, 23 months.
She was hit by a van outside nearby Ely fire station. In other parts of Ely and neighbouring Leckwith 13 children and adults were injured in collisions on what began as a normal Friday afternoon.
The hundreds of mourners in the church and the dozens gathered outside were told that Ms Menzies had saved the lives of her children that day.
Many were in tears as letters written to their mother were read out by her two eldest girls, Sophie, 11, and Ellie.
Sophie, who was abroad at the time, thanked her for saving "my two beautiful sisters", adding that she would always be her hero.
"Dear mum, today I'm feeling really sad because I know it's time to say goodbye," her letter said.
"You were an amazing mum. You were fun, cool, and unnormal."
Ellie wrote: "Dear mum, thank you for everything you have done for me and have a nice time being an angel.
"Always visit me and I will always be by your side and you will be by mine. Whenever I feel lonely, I will remember you will be right here by me."
Ellie also remembered her mum making her laugh by pulling funny faces and helping her make spaghetti bolognese.
"I will never forget that. I love you mum," she added.
Ms Menzies' brothers and sisters Craig, Gareth, Sam and Laura, along with her friend Otis Williams, also paid tribute to her.
They recalled good memories and described Karina as a strong, fun character who always put her family first. They also vowed to look after her three daughters and ensure they have a good life.
Her sister Sam said: "You injected so much happiness in my life, you live on in your three beautiful girls.
"I promise I will cherish them."
The service also heard how she loved music, make-up and fashion and the Reverend Jan Gould said: "I think she would be very proud of her coffin."
The reverend also described Ms Menzies' love of horses and said her sister Sam would pass on her passion to her children.
As the funeral service ended and mourners mingled outside the church, they hugged and offered words of comfort to each other.
June Davies, 58, from Ely, said: "People still feel the same sense of shock and upset about what happened but it's brought the community together. It's a strong community."
John Gilbert, 70, formerly of Ely, and now of Barry, said his daughter Wendy Gilbert was upset that she was ill and unable to attend her friend's funeral.
"I knew Karina, she was into horses. I own horses and she used to help me with them when she was about 14 or 15.
"I used to take the gang of girls to the Royal Welsh Show. She was lovely."
Matthew Tvrdon, 31, has appeared in court accused of murder, attempted murder and assault. He faces a total of 19 charges, including murder, 13 counts of attempted murder, four counts of assault occasioning actual bodily harm, and one charge of dangerous driving.