Torfaen laptops: Pupils set to benefit from surplus of 2,500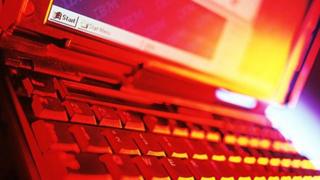 A council stuck with 2,500 laptops after a schools IT project with another local authority fell through says it wants to hand them out to more pupils.
Torfaen council says it was left with the kit after neighbouring Newport pulled out of a £1m deal also involving Monmouthshire - a claim Newport denies.
Torfaen is seeking permission to give out the machines to a wider group of pupils in Torfaen and Monmouthshire.
The Welsh government will be asked to make a decision later this month.
Newport council has said it never signed up to any deal with Torfaen and stopped discussions once it was presented with the scheme's likely costs as it found the business case "unsustainable".
Torfaen council was left holding the laptops after buying more than 8,500 in March 2011 under a Welsh government digital pilot project to help 14-16-year-old pupils.
The digital learning system operates in 11 secondary schools across Torfaen and Monmouthshire, allowing pupils aged 14-16, parents and teachers to access lessons, coursework and classroom materials online.
The first phase of the scheme, funded with £9.8m from the Welsh government, and £2.28m jointly from Torfaen and Monmouthshire councils, was due to include Newport until that local authority withdrew.
Warranty
The bulk of laptops bought for the project have been shared with pupils in Torfaen and Monmouthshire but the remainder have been in storage and are now out of warranty.
But Torfaen council said the laptops remain in working condition.
It is waiting for approval from the Welsh government to distribute the computers to a wider group of pupils within Torfaen and Monmouthshire.
In a statement, Torfaen council said: "Learners are at the heart of this revised programme and we want to ensure as many learners as possible, across Torfaen and Monmouthshire benefit from the investment."
A proposal will be submitted to the Welsh government's Capital Board for consideration this month.