Yaseen Ali Ege death: Son told teacher his mother Sara hit him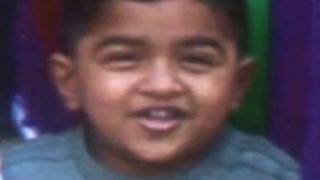 A mother from Cardiff accused of killing her son for failing to learn parts of the Koran had been called to see his headteacher amid concerns she hurt him at home, a court has heard.
Sara Ege denies beating Yaseen Ali Ege to death and setting fire to his body.
A teaching assistant told Cardiff Crown Court the boy had told her Mrs Ege, 33, had hit his hand with a ruler at home.
Yaseen's father Yousef Ege, 38, denies causing his death by failing to protect him. The trial continues.
Seven-year-old Yaseen's death at his home in Cardiff in July 2010 was believed to be a tragic accident in a fire at first, and it was only later that investigators found he was dead before the blaze began.
A teaching assistant told the jury she worked at Yaseen's school in 2007 and knew him as a bright boy who liked drawing and making things and was good at writing.
She said: "He wasn't going out to play with the other boys. He was reading or drawing or playing with something. He spent more time with the girls.
"To be honest he was such a neat little boy - his hand-writing was beautiful. I knew that he could be left to get on with it."
'He said his hand hurt'
Speaking about a particular session overseeing Yaseen and and some other children, she said that she was surprised when the writing he produced in pencil was "really untidy and not like him at all."
On asking him to repeat the work, she noticed he was using his left hand rather than his right one.
When she queried this, he said his hand was hurting him then told her his mother had hit him with a ruler. She examined his hand but could not see an injury.
She reported her concerns to the teacher, who relayed them to the head, and Mrs Ege was asked to go and see her when she came to collect Yaseen from school that day.
The teaching assistant said she did not know what was said in the head teacher's office, but dismissed a suggestion she was mistaken about Mrs Ege being asked to see her.
Mrs Ege is accused of hitting and punching Yaseen and punishing him using a hammer, a rolling pin and a slipper. She also denies perverting the course of justice.