Cocaine driver Stephen Freye guilty of Kyle Griffith murder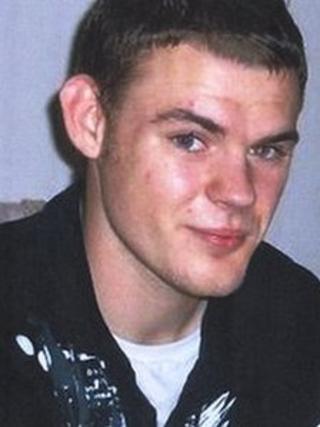 A driver who snorted 70 lines of cocaine before he drove at a pedestrian has been found guilty of murder.
Cardiff Crown Court heard Stephen Freye, 22, was looking for a victim to run over when he spotted chef Kyle Griffith, 25, walking home in James Street in Cardiff Bay.
The prosecution said he had suffered hallucinations shortly before he drove straight into the father-of-one.
Freye is expected to be sentenced on Tuesday.
The court heard Freye confessed to police at the scene, telling them "I was told to kill a stranger".
"Freye had taken cocaine and had suffered hallucinations shortly before he drove straight into innocent Mr Griffith," said prosecutor Huw Evans.
"He told police that at the exact moment he saw his victim, the voices told him his own family would die if he didn't drive at him.
"He said he didn't even think, he just assumed that if he ran him over, everything would be okay.
"He deliberately drove at him and his intention was to kill or cause serious injury."
Mr Griffith was a chef at Cardiff Arts Institute and a father to a four-year-old girl.
Freye had claimed he was driving to a police station in his Fiat Cinquecento to tell them about the voices he was hearing when he saw Mr Griffith on the roadside in January this year.
He denied the charge of murder but admitted manslaughter claiming he was suffering from an abnormality of mind at the time.
During the trial, Freye told the court: "I was in a drug induced psychosis. The coke was so irresistible that when I got it from the dealer I started snorting it from the bag on the way back. I was just totally a slave to it.
"The voices had compete control of me. As soon as I saw him, the voices spoke."