Aamir Siddiqi: Blood stains found in Volvo car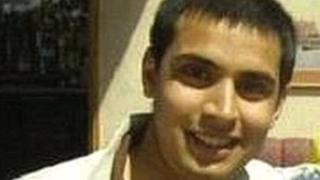 Blood stains found in a car allegedly used in the murder of a teenager stabbed on his own doorstep matched his DNA profile, a court has heard.
Aamir Siddiqi, 17, was allegedly attacked by mistake by bungling hitmen at his family home in Roath, Cardiff.
Forensic scientist Jessica Adby said there was a "one in a billion" chance the blood came from someone else.
Jason Richards, 38, and Ben Hope, 39, deny murdering Aamir and attempting to murder his parents in April 2010.
Ms Adby told Swansea Crown Court that five areas of blood staining were found on the driver's footwell of a Volvo car which had been recovered by police, "where the left foot of an individual would have been".
The court also heard a small blood stain was found in the front passenger's footwell.
Ms Adby said the blood staining found on the driver's side had a DNA profile which matched that of Aamir Siddiqi.
It is estimated that the possibility of obtaining this result by chance was one in a billion, she said.
Ms Adby said blood staining on the passenger side was a partial result and "this blood could have originated from Aamir Siddiqi".
"In my opinion the presence of this blood suggests that an individual with blood staining on the shoes has been in both the driver's side and the passenger's side of the vehicle," she added.
She also agreed one or more individuals involved could have been involved.
Promising student Aamir Siddiqi was stabbed to death at his home in April 2010.
Jason Richards and Ben Hope are also accused of the attempted murder of Aamir's parents who had tried to stop their son from being attacked.
The court heard that a grey hooded top, which was recovered by police in a plastic bag, was DNA-tested.
Ms Adby said three areas were tested and DNA "matched that of Jason Richards from all three samples".
However, the jury also heard there was no evidence of blood staining on items relating to Jason Richards or Ben Hope to link them to the incident.
Questioned by Patrick Harrington QC, prosecuting, Ms Adby agreed it did not exclude the defendants being involved.
She said: "Individuals rarely bleed instantaneously."
'Missed a trick'
Cross-examining, John Charles Rees QC, defending for Mr Richards, referred to correspondence from Ms Adby which referred to a hooded top he said police believed Mr Richards had worn.
Mr Rees read a line from Ms Adby which said: "I cannot help but think I missed a trick in the examination of this item."
Mrs Adby said it was a "colloquial" term and said the examination, took place in a Forensic Science Service (FSS) lab, and was a limited one where they were only able to look at the item and target areas of blood staining already found on it.
She added that the item came in with another 40 to 50 items which had been taken from three other addresses and she had been contacted about it nine months after her involvement with the case.
The court heard the FSS in Chepstow shut at the end of 2010 and was being decommissioned at the time the Aamir Siddiqi case exhibits were being examined.
She confirmed Aamir's clothing was received "in a hospital bag" which was not secure.
Mr Rees said notes relating to Aamir's clothing said there were "visible holes" in the bag.
Ms Adby said her understanding was that the item was given to a police officer to bring straight from the hospital.
She added that she understood the items were heavily blood-stained and needed drying.
The trial continues.