Bridgend flooding: Brackla flats evacuated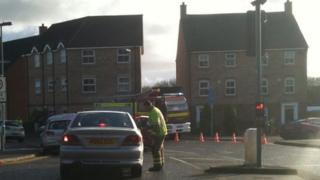 Several ground floor flats have been evacuated after flooding in Bridgend.
South Wales Fire and Rescue Service said seven adults and two children were told to leave their homes just off Coychurch Road in Brackla.
Crews from Bridgend and Cowbridge were called at 08:04 GMT on Friday to pump water from the scene and were still in attendance over six hours later.
A spokesperson for the fire service said the flooding had been caused by water from a blocked culvert.
It is understood the culvert is underneath a railway line and Network Rail staff are working with fire crews and Bridgend council to tackle the problem.
Network Rail said workers were laying a pipe underneath the track to allow the water to drain away onto the other side.
It means slight delays to some rail services.
Bridgend Council's cabinet member for communities Councillor Phil White confirmed the incident was due to a blocked culvert underneath the railway line, behind privately-owned flats.
"Council officers have been assisting on site alongside South Wales Fire and Rescue Service to support residents, while Network Rail works to deal with the blockage and relieve the flooding.
"The council has opened a rest centre for residents of the properties affected and transported them to the centre, where they will be cared for temporarily."