Nikitta Grender: Carl Whant fails to have 35 year sentence cut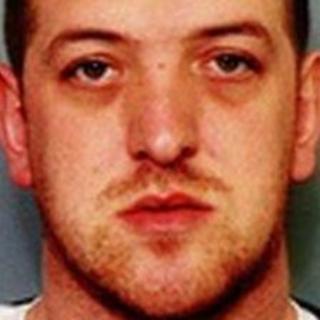 A former nightclub bouncer jailed for a minimum of 35 years for murdering a heavily pregnant teenager has failed to have his sentence cut.
Carl Whant, 27, of Bettws, Newport, raped and stabbed 19-year-old Nikitta Grender at her home last February, also killing her daughter who was due to be born within two weeks.
He was convicted of murder, rape, child destruction and arson.
On Thursday, a judge branded him "a very dangerous man".
Whant had asked Lord Justice Pitchford, Mr Justice Hickinbottom and Judge Guy Boney QC at the Court of Appeal in London to reduce his minimum term.
The court heard that Whant, who worked in double glazing at the time of the killing, was high on cocaine when he slashed Miss Grender's throat and stomach and set fire to her body.
'Appalling'
The murder took place at the flat Miss Grender shared with her boyfriend, who was Whant's cousin and closest friend.
Whant had raped her at knifepoint then murdered her when she made it clear she was going to report him, Lord Justice Pitchford said.
Lawyers for Whant argued that the Newport crown court judge had wrongly imposed too high a minimum term by taking the killing of the unborn baby into account as an aggravating factor.
Rejecting those submissions, Lord Justice Pitchford said: "He killed his victim because she was a witness to the rape he had just committed.
"The offence was further aggravated by the fact that he killed her unborn child and attempted to dispose of the evidence by fire.
"It is simply unarguable that the killing of the unborn child was somehow part and parcel of the sexual element which led to the killing.
"The appalling facts allowed the judge to impose a minimum term substantially above 30 years.
"He is plainly a very dangerous man. It is impossible to argue that this minimum term is manifestly excessive."