Yaseen Ali Ege death: Father Yousuf Ege 'unusually calm'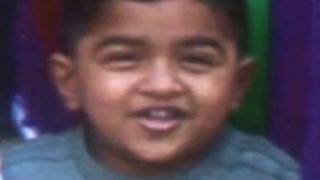 A father charged in connection with his son's death death appeared "unusually calm" at the scene, a court has heard.
Cardiff Crown Court heard from a firefighter called to an address in the city where the badly-burned body of Yaseen Ali Ege, seven, was found.
Sara Ege, 33, denies beating her son to death and setting fire to his body.
The boy's father, Yousuf Ege, 38, denies a charge of causing the boy's death by failing to protect him. The trial continues.
The jury heard how firefighters were called at 18:30 BST on 12 July, 2010, to reports of a blaze, and arrived within four minutes.
Richard Higson, the crew's driver, said the boy's body was "very rigid, unusually so".
He said the body was also hot, and the whole situation "didn't seem to add up... things were not usual".
He said that when Yaseen's father arrived at the scene, Sara Ege said: "He's burnt. He's burnt. He's actually burnt."
Yousuf Ali Ege, he said, replied with something like: "But is he alive?"
Mr Higson told the court Yaseen appeared to be dead, but he did not tell the parents and was trying to be "very discreet".
He told the court the father: "In my opinion appeared unusually calm."
The firefighter had the impression Sara Ege knew her son was dead, the court heard.
Under cross-examination by Mr Ege's barrister, Maura McGowan QC, Mr Higson was asked what people are usually like in a similar situation.
"Most people would be hysterical I think," he said.
Asked if he had come across someone else that reacted calmly like Mr Ege, he replied: "No, to be honest, no."
"Not in 15 years of experience?" she asked.
"Never in 15 years. No," he replied.
Mr Higson told court he could see in Sara Ege's eyes that she knew her son was dead, but "she didn't want to vocalise it, and accept that her child was dead".
The first paramedic at the scene, Chris Willis, described seeing a firefighter conducting CPR on Yaseen's badly-burned body.
His face was not swollen and there was no soot in his mouth, the court heard.
In a statement he said Sara Ege was clearly suffering from smoke inhalation.
Mr Willis went to tend to her after Yaseen.
He said: "I expected her to ask about Yaseen, but she didn't. I put it down to shock."
Phillip Allan, a firefighter with 12 years experience, described how the boy's body felt stiff.
He described helping extinguish a fire on the landing and another in a bedroom at the foot of a double bed.
'So personal'
The jury heard how Mr and Mrs Ege were taken to hospital in a separate ambulance to their son, who was pronounced dead en route.
Police officer Andrew Williams described the moment Mr Ege was told by a doctor that his son was dead.
He said Mr Ege fell to his knees with a loud bang and started crying, calling out his son's name.
Mr Williams said after 11 years as a policeman, it was one of the worst experiences of his life, "because it was so personal".
Mr Ege told the policeman he did not want to tell his wife, because he thought she was too weak.
Later though, the officer saw them talking to each other in a language he did not understand, and heard the words "Allah" and "Yaseen".
He thought it meant Mr Ege had told his wife that Yaseen was with Allah now, the court heard.
Both defendants deny the charges.