Cardiff Airport: Western Gateway plan for Heathrow hub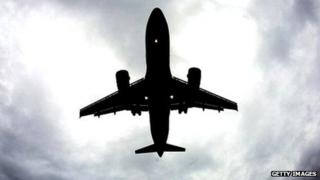 Ambitious plans to transform Cardiff Airport into an international hub have been submitted to the UK government.
Transport experts and entrepreneurs have developed a £250m plan to turn it into Heathrow's Atlantic terminal.
An expanded Cardiff Airport, to be called Western Gateway, aims to attract international fliers who can be transported to London via high speed rail within an hour.
Cardiff's passenger numbers plummeted by more than 100,000 this year.
It is hoped Western Gateway will attract hub and direct flights to global destinations such as North and Latin America.
The next step will be for a fuller submission to be made to the independent commission, chaired by Sir Howard Davies, set up by Prime Minister David Cameron to look at options for new hub capacity in the UK.
The group is comprised of entrepreneur Rudi Plaut, Prof Brian Morgan and transport experts Martin Evans and Prof Stuart Cole.
They hope to work with the Welsh government to develop a more in-depth business case for a hub airport for consideration by the Davies Commission.
Prof Cole said that in the long term Cardiff and Bristol airports could work together if a road and rail link formed part of a Severn Barrage.
"A group was set up called Western Group. The idea is that Heathrow needs a third runway but there's very little room in the sky and the local population are against it anyway," Prof Cole said.
"The government is bickering and does not know what to do.
"Boris Island [London Mayor Boris Johnson's plan for a Thames estuary airport] is a waste of time, there's no other word for it. It's in the wrong place unless you live in Kent and the biggest travellers to the south east of England are from the south west of London so it's wrong for the traveller - it's a non-starter."
Prof Cole said the group was looking for a more radical idea.
"Heathrow is probably a non-starter, too, because there is so much local opposition to it and the skies are overloaded."
'Exciting and brilliant'
Prof Cole said the plan was for four high speed trains an hour between Cardiff and London.
"This airport would solve the issue of Heathrow's third runway but also enhance the commercial viability of the high speed line investment," he added.
Prof Cole said the proposal will appeal to the Department for Transport to spread the wealth and airport transport load.
"It's very exciting - it's brilliant," he added.
A Cardiff Airport spokesman said it had submitted an official response to the UK government consultation calling for an enhanced role for Cardiff.
"We understand that other, unofficial, submissions are being made and we are pleased to see that widespread support for the growth of Cardiff Airport continues," it said.
A spokesman for the Welsh government said: "We want Cardiff Airport to realise its potential to be a modern, well-connected success at the heart of our national infrastructure.
"The airport is a gateway to Wales and should provide a fitting welcome to business and leisure visitors to Wales and play a key part in our economic growth.
"That is why the first minister created the airport taskforce - and we are committed to working with the owners, the business community, and all those with an interest in the airport to achieve this aim."