Great War soldier inscribed on Ferndale memorial after 96 years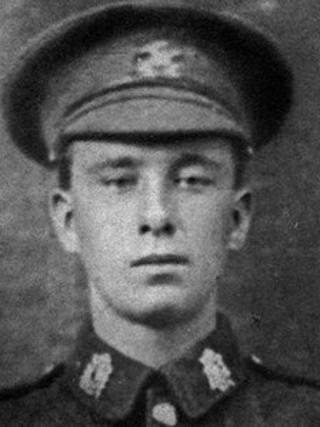 A 19-year-old soldier killed in northern France during the First World War has had his name inscribed on a war memorial 96 years after his death.
Private John Murray, from Ferndale, Rhondda, died at Mametz Wood on 7 July 1916 but he was not included when the town's cenotaph was built.
This Remembrance Sunday is the first time his name will be on the memorial.
His name has finally been added after a campaign led by his nephew Lawrence de Arth.
He said it was right his uncle's sacrifice had been recognised.
Mr de Arth has planned a special commemoration for this Remembrance Sunday.
Three years ago, Mr de Arth, from London, visited the cenotaph in Ferndale for the first time and saw his uncle's name was not on it.
"John's brother and sisters left for the US and London," Mr de Arth said.
"His parents died before the cenotaph was constructed and somehow their son was forgotten.
"With no one left to note his omission or sanction his inscribed memory when the cenotaph was constructed."
His name was finally inscribed late last month.
"He remained a forgotten warrior until October 23 2012."
Former miner Pte Murray, of the 16th Battalion Welch Regiment, enlisted in 1914 and was killed in action at Mametz Wood at the Somme two years later aged 19.
His name appears on the Thiepval memorial on the Somme along with 75,000 others.