Inquest and IPCC report into cell death of Lee Donovan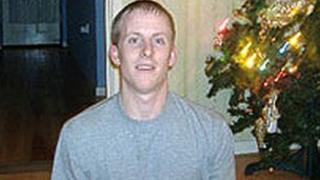 A verdict of misadventure has been recorded at an inquest into the death of a 23-year-old man in police custody.
Meanwhile, an investigation by a police watchdog said failings by the Gwent force did not contribute to Lee Donovan's death in 2008.
However, the Independent Police Complaints Commission (IPCC) found poor practices and record keeping.
Gwent Police said lessons had been learnt but his family are to take civil action.
Mr Donovan had been arrested in 2008 on suspicion of damaging a vehicle in Newport's High Street and was taken into custody at Pontypool police station.
He was later found dead with a ligature round his neck.
The IPCC found breaches of police and criminal evidence regulations (Pace) and irregularities in custody record keeping by Gwent Police during Mr Donovan's detention.
However, it was not found that this contributed to Mr Donovan's death.
He had been arrested in the early hours of 26 April 2008 and was checked at around 00:30 GMT but was found at 00:55 GMT with a ligature around his neck.
'Tragic'
The IPCC investigation found that a police sergeant, a police constable and a custody detention officer had not acted properly and that there was a case to answer for misconduct.
Gwent Police decided that a police constable would be given management advice, while the custody detention officer was given words of advice.
The police sergeant subsequently left the police service and misconduct sanctions could not be applied.
IPCC commissioner for Wales Tom Davies said: "This is a tragic death of a troubled young man and my condolences go to Lee's family and friends.
"The IPCC has made recommendations to Gwent Police to improve its custody staff training and how custody records are kept.
"Our investigation also looked at what Gwent Police had done to action the recommendations we made to improve custody standards following the death of Andrew Shepherd in 2006 and I was disappointed with the force's actions."
The family's solicitor Glyn Maddocks said they would be pursuing a civil claim against the Gwent force under the Human Rights Act, for what he described as "systemic failures".
Mr Maddocks said the family was relieved the inquest had not concluded with a verdict of suicide, as they never felt the evidence in the case supported that verdict.
He said that the coroner David Bowen had stated his intention to issue a letter under his powers, where he believed action needed to be taken to prevent future deaths.
Mr Maddocks said: "Why weren't steps taken to ensure arresting officers passed information to the custody sergeant?
"Lee was seen very infrequently - it should have been every half-hour - there should be recommendations to prevent this happening again."
Mr Maddocks claimed failings following the earlier death in custody, two years before, had not been addressed.
Deputy chief constable of Gwent Police Jeff Farrar extended his deepest sympathies to Mr Donovan's family and friends.
"It's clear that some of our custody processes were not good enough in 2008 and the custody record keeping was not of a standard we would have expected," he said.
"Whilst the coroner's findings and the IPCC report make it clear that these factors did not contribute towards Mr Donovan's death, we have ensured that the lessons from this incident four years ago have been learnt."
He said police officers and staff faced demanding and challenging situations every day, particularly in our custody suites, often dealing with situations where people were at their lowest ebb.
"Despite this the public should rightly expect us to safeguard people when they are in our custody or care," said Mr Farrar.
He added that considerable improvements had been made since 2008 and the IPPC recommendations would be carefully considered.
At the time of his death, his father Mark called his son "a compassionate man with a wonderful sense of humour".
"Lee was a well-mannered and polite lad and had a great love of life," he said.
"Lee always had a sparkle in his eyes. He always made everyone who came into contact with him smile."