Cwmbran brake disc factory creates 100 jobs over five years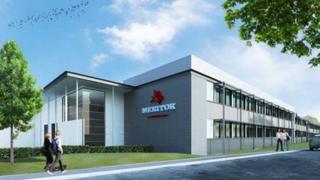 A factory in Cwmbran, Torfaen, will create 100 jobs over the next five years, it has been announced.
American-owned Meritor is investing £36m on updating the brake disc factory which dates back to World War II.
It is backed by the Welsh government through the Single Investment Fund (SIV) and Business Minister Edwina Hart has welcomed the the move.
Currently, 450 people work at the factory and 90% of the output is exported.
Ms Hart said: "It is a major undertaking and I am very impressed with the progress in transforming a site built during the Second World War into an ultra-modern facility with state-of-the-art manufacturing equipment and systems, including fully automated assembly lines.
"Meritor is recognised by the Welsh government as one of our regionally important companies that has a highly skilled workforce and makes an important contribution to the Welsh economy and to the local community.
"This important investment is very welcome, particularly during these challenging economic conditions and I should like to congratulate the company on the work undertaken to date that will enhance production efficiency and incorporate a range of low carbon environmentally friendly features."
The investment will mean complete refurbishment of the factory.
Dietrich Zaps, general manager at the Cwmbran site, said: "After careful consideration of the options for re-energising the business, we chose to invest in our Cwmbran facility based on the experience and flexibility of our workforce, backed up with the support of local and national government."