Lieber Prize schizophrenia honour for Cardiff University scientists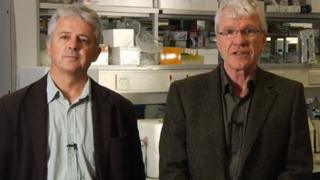 Two Cardiff University professors who have been at the forefront of research into schizophrenia for two decades are being honoured in New York.
Mike Owen and Mick O'Donovan are collecting the Lieber Prize for "exceptional" work.
They say the $50,000 (£31,000) award will help their efforts to "relieve the burden of mental illness to society".
The university said the scientists have put it on the world map for pioneering research in tackling the illness.
Prof Owen is head of Cardiff's MRC Centre for Neuropsychiatric Genetics and Genomics and the Neuroscience and Mental Health Research and Prof O' Donovan is deputy director of the MRC centre.
The pair, who are both consultant psychiatrists, have worked together on the genetics of schizophrenia for more than 20 years.
'Lack of understanding'
The university says their research has helped identify the first robustly supported susceptibility genes for schizophrenia and identified likely disease mechanisms.
Prof Owen said: "It's a great honour for us to receive the Lieber Prize.
"The success of our research has only been possible because of an outstanding team of colleagues and the many researchers who have worked with us on a day-to-day basis for more than 20 years to tackle this.
"The development of new therapies for severe disorders such as schizophrenia continues to be hampered by our lack of understanding of disease mechanisms.
Enormous studies
"Given recent advances in genomics and neuroscience, there has never been a better time to tackle these conditions. This prize will help us and our teams at Cardiff University to continue to gain new understanding and work to relieve the burden of mental illness to society."
Prof O' Donovan added: "Central to the progress our own laboratories have made in uncovering some of the first clear causal factors in this disorder has been the willingness of researchers across the globe to share data with us to help us test promising leads emerging from our work in enormous studies, for which we are both grateful.
"This sort of collaborative spirit has transformed our own work and, along with recent technology developments, is finally unlocking the promise of genetics as a tool for casting light on the biological origins of schizophrenia as well as other psychiatric diseases."
Cardiff's deputy vice-chancellor Prof Elizabeth Treasure paid tribute to the scientists.
"Their work to help identify new genes that affect the risk of developing schizophrenia has helped change the way the disease is viewed and opened up new opportunities for prevention and treatment in the future," she said.
"It has helped raise the profile of a disease that, despite its enormous cost to individuals and society, remains neglected and has firmly put Cardiff University on the world map for its pioneering work in tackling mental illness."