Cardiff hit-and-runs: Ely community in shock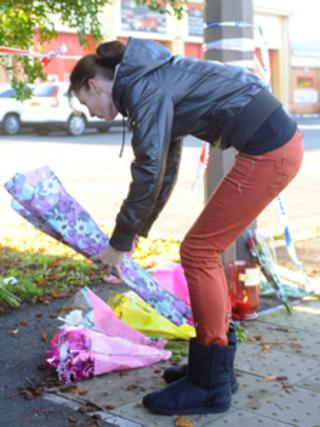 The Cardiff suburb of Ely may have woken up to a glorious sunny Saturday morning but there is a heavy cloud over the community following the tragedy of the previous day.
An otherwise unremarkable Friday afternoon turned into chaos after police were alerted to an incident at Crossways Road on the estate at 15:30 BST.
A van was bringing havoc to the suburb's streets, apparently targeting pedestrians as they went about their daily lives.
It soon became apparent there were a series of five hit-and-runs across western Cardiff, four of which were in Ely, leaving a woman dead outside the fire station and 13 injured.
And it is Ely feeling the incident most acutely now after it was revealed that a local mother, 32-year-old Karina Menzies, died.
A feeling of shock could be felt on the streets on Saturday as residents tried to make sense of what had happened.
People were still going about their business, with the normal Saturday morning queue of traffic into Trelai Park as children headed to play football.
But there were other less typical activities.
A steady stream of people were bringing flowers to lay by the fire station where Ms Menzies was fatally injured.
One of those was 26-year-old Peter Hale, who knew the dead woman.
"She was always smiling when I saw her," he said.
"It was only two days ago I saw her walk past here with her two children. I think she had three children altogether but only two were with her.
"You see things like this on TV all the time happening in different places but you don't expect it to happen on your own doorstep, especially when it's people you know.
"We're a family in Ely and everyone will come together and push on hopefully."
Amanda Davies, 25, also came to the fire station with her family to lay flowers.
She said she was best friends with Ms Menzies's sister at school and wanted to pay her respects.
"I was devastated. Something like this doesn't happen in Ely," she said.
"I only live around the corner. People were sending messages saying don't go outside your house because people are being run over by Ely fire station."
Not everyone leaving flowers knew Ms Menzies though, some just felt they wanted to show that they cared.
One husband and wife, who did not want to be named, said: "We don't know her but when something like this happens, you all stick together in Ely.
"We were in shock really, everyone was. You don't expect anything like this."
Outside Ely library, over the road from the fire station, there was only one topic of conversation.
Margaret Penfold, 45, had brought her two children to the library and was in tears talking about the previous day's events.
"There are innocent children that have been hurt. I feel for the poor people who have lost everything," she said.
"It could've been my children. They were coming home from school, they are 12 and 13, and I didn't know what to do.
"I was going to go out the road looking for them but they came up the road then. The relief on my face was unbelievable."
Ms Penfold said she knew Ms Menzies and described her as a "lovely girl".
"You couldn't ask for a better person," she said.
Ely has a population of around 15,000, with a mix of council-owned and private homes. It has its share of problems, however residents say it is generally a quiet community.
The Reverend Jan Gould opened up the Church of the Resurrection on Grand Avenue to help offer comfort to the community.
She said: "We were open until about 11:30 last night we had a steady trickle of people just wanting to sit, light a candle or make sense of what had just happened. We're open today until six tonight."
She described the scene.
"It was the most horrendous incident. It equates very much to a shooting, I was walking down Cowbridge Road and it seemed very much like that," she said.
Some on the streets think it will take Ely a long time to get over what has happened.
"It's nice to see the flowers, and people are paying homage if you like," said 47-year-old Graham McNamara, who has lived in Ely for 30 years.
"It's good to see the community is reacting in that way but I think it will take a while for the community to recover."