Aberfan play closed to public following complaints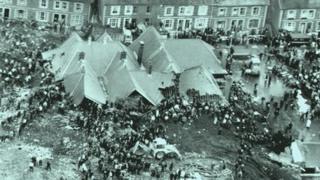 A play about the Aberfan disaster has been closed to the public following calls for the production to be cancelled.
Tonight's performance is restricted to families of the 25 teenage cast members at the Urdd Studio in the Wales Millennium Centre, Cardiff Bay.
Aberfan residents complained they were not consulted over the play's content.
Mark Jermin, who produced Aberfan - The Friday Before Half Term, said it was intended as a tribute.
The production is being staged by the Mark Jermin Stage School, featuring performers aged between 13 and 16.
The village of Aberfan became known around the world on 21 October 1966 when a total of 144 people, including 116 children, died when a coal waste tip slid down a mountain and engulfed a school and surrounding houses.
Some local residents were angered by a quote from the play printed on leaflets advertising the production.
It read: "No one knew if it was God's anger or the tons of newly unsettled coal dust but that day the sky over Aberfan turned black."
'Offensive' wording
Gareth Jones, who survived the tragedy, is among those who called for the production to be cancelled.
"They say they've consulted with people, but everyone I've spoken to says they've heard nothing. I've been round knocking doors and nobody's heard anything about it," he said.
"People I've spoken to say the same, they haven't been consulted and the wording about God's anger was quite offensive.
"I don't object to the play as such - I want the story of Aberfan to continue to be told for hundreds of years. But it's the way they've gone about it."
A Facebook page promoting the play has been taken down after a series of negative comments were posted.
Mark Jermin Stage School said in a statement: "The subject matter is naturally very sensitive and the children have spoken to many residents of Aberfan and also took part in a site visit as part of their research for the play.
"This performance piece is based on facts that the children have researched, but we want to make it clear that the characters are fictional and this is in no way a re-enactment, but an artistic interpretation of the disaster."
The stage school also said residents from Aberfan had been invited to watch some of the rehearsal process to ensure the play was accurate.
"The aim of the production is not to offend or cause upset and we hope it will be a tribute to the memory of what is a truly devastating part of Aberfan's history," the statement added.
A public performance of the play scheduled for Swansea Metropolitan University Theatre on Sunday - the day of the anniversary - has also now been restricted to parents and families of the teenagers taking part.