WormTech, Caerwent: 19 jobs go during recycling probe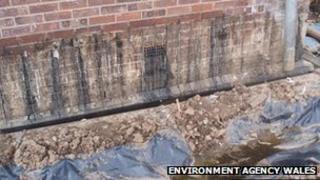 A total of 19 people have been made redundant after a Monmouthshire recycling firm's permit was suspended by officials over environment concerns.
WormTech in Caerwent had work stopped in July by Environment Agency Wales (EAW) when E. coli and salmonella were found at its food composting site.
EAW says its probe continues while the firm says it tried to find solutions.
Meanwhile, Monmouthshire council says it has now cancelled its contract with the firm.
Jackie Powell from WormTech said: "Repeated attempts were made to solve this issue with the Environment Agency and come to an agreement to improve the site.
"The closure of the site has resulted in a loss of 19 jobs and a substantial bill to the Environment Agency."
'Increasingly concerned'
In July officers from EAW found E. coli and salmonella in leachate, produced by the composting process, coming out of the wall of a building used for food waste deliveries.
It served a notice suspending WormTech's environment permit, meaning it could process any more waste until it proves it has sealed its buildings.
EAW estimates about 20,000 tonnes of waste is currently on the site.
In a statement, EAW said it was considering what further action to take while investigations continue.
"We have grown increasingly concerned about the management of the WormTech site and the fact it has not been complying with its permit and impact this could have on local watercourses," said an EAW spokesperson.
"To make sure the environment is protected, we are managing leachate levels on the site by removing it ourselves, although this remains the responsibility of the company."
It has confirmed with Public Health Wales that it does not currently pose a risk to public health.
Now Monmouthshire council has said it is to appoint a new contactor.
Until then it will continue to operate its interim recycling arrangements with another company.
The firm recycles waste for councils, including Torfaen and Blaenau Gwent, who have said previously that food waste collections will not be affected.