Cwmbran County Hall demolition may need hole filling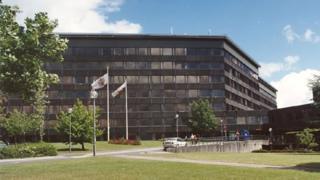 The cost of filling a hole underneath a former council headquarters facing demolition could hit the proceeds from selling the site, officials confirm.
The space below the six-storey 1970s County Hall in Cwmbran - including bunker-like emergency rooms - is already known to be too big to be filled by the rubble of the building.
Monmouthshire and Torfaen councils had hoped to make £4m from the site's sale.
But the cost of filling in the void has cut likely earnings to £275,000.
'Concrete cancer'
County Hall in Cwmbran originally opened in 1974 as the headquarters of the newly created Gwent County Council.
When the authority was abolished in 1996 the building became a base for two of its successor local authorities until March this year when it was closed after a report showed it would cost £30m to repair.
A structural survey showed the building has "concrete cancer", with the steel reinforcements in the structure rusting due to water penetration.
The building is empty and contractors are this week submitting bids for the work to "soft strip" the interior - removing pipes, wiring, wood and other recyclable materials.
Before demolition - expected early next year - experts will be sent in to establish how big the site is below ground.
The two underground rooms are not lead lined and have no separate water supply but do have windows looking out on to a service road.
They were built for use as emergency planning rooms during times of crisis.
The rooms are just part of the space that void engineers will map out, which includes two levels of underground car parking, an archives vault and utility space for boilers and electricity equipment.
But council officials have dismissed claims that the site houses a nuclear bunker.
A Monmouthshire council spokesman said: "Although we have always known what was down there, there are a couple of service tunnels and sink holes that we need to look at.
"Soil has been washed away by sumps which has been leaking water. Over the years, a large amount of soil has been washed away.
"There is a larger space under there than we anticipated. It is a very great hole."
Deconstruction
Engineers will go down to find out how big the void is now and calculate how much more material will need to be brought in to level the site.
The spokesman said: "Material has to shipped in to completely fill the hole. It all has to be filled in to acceptable standards."
"The decision to move was taken before the banking crash, when there was a lot more money around.
"Regardless of the state of the economy, there is still more space in the void than there is building to fill it."
Monmouthshire council leader Bob Greenland said the valuation on the building was just a "book figure" to ensure it was not being overvalued.
He said he still expected the site to earn the two councils more than expected.
He said: "Knocking a large building like this down does not involve a ball and chain and giving it a belt.
"You have to deconstruct the building and take out any items that are recyclable. There is also an issue of any asbestos which has to be taken out carefully.
"It is clear there was quite a bit of space under that building.
"I did not think it would be a problem in terms that there was not enough rubble from the building to fill that void.
"I thought we would be carting material away from the site rather than having to import material."
Monmouthshire council is now based at Magor until new offices open in Usk next summer, while Torfaen is largely based at Pontypool civic centre.