Cwmcarn asbestos: Cost warning over Wales schools check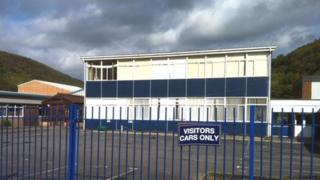 A teaching union has warned of the possible cost implications as it welcomed a move to make Welsh councils report on all schools' asbestos levels.
Education Minister Leighton Andrews issued the order after Cwmcarn High School in Caerphilly county closed unexpectedly due to asbestos concerns.
The NASUWT said it was glad the matter was being taken seriously.
But it warned of "massive issues" about raising funds to remove the material at a time of education cuts.
The 900-pupil secondary school was closed after workmen spotted the potentially hazardous material.
The school will partially reopen on Friday - a week after its sudden closure - with year 12 and 13 pupils told they should report to the school's performing arts centre at 08:30 BST.
Year 11 pupils will join them back in the school's new block on Monday.
A meeting will be held the following day to discuss options for the remainder of the pupils.
On Tuesday Mr Andrews said he had asked all local authorities to establish the extent of asbestos in their schools and report back next week.
Mr Andrews called the situation at Cwmcarn difficult and said councils had clear legal duties to do annual surveys.
He said Public Health Wales was providing a health-based risk assessment, and Caerphilly council was looking at a number of options to accommodate pupils as a priority.
'Major costs'
In response, Chris Keates, NASUWT general secretary, said: "We welcome the fact that the Welsh government is taking this potentially life-threatening situation seriously."
But he added: "There is a potential for this to raise massive issues about the funding necessary for the safe removal of asbestos, as this would incur major costs at a time of savage cuts to education budgets.
"The NASUWT would wish to support the Welsh government in seeking funding for this essential measure."
Rex Phillips of NASUWT Cymru called for the Welsh government to ensure that councils are provided with a programme for the safe removal of asbestos from schools over time, starting with the schools that present the most risk.
He said: "The only way to make our schools safe is to remove asbestos from them but we recognise the cost implications this raises and that this cannot be done overnight."
NASUWT Cymru has asked the Health and Safety Executive (HSE) to investigate the discovery of asbestos at Cwmcarn.
The union said it wanted the HSE to confirm that correct procedures are adhered to.
The HSE has said it was looking to see whether there were grounds for a full investigation.