Pentyrch web date killer Bleddyn King given 28 years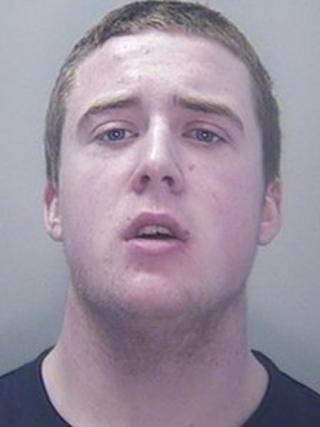 An 18-year-old man who stabbed a 64-year-old widower 72 times in his bungalow after meeting him on a website has been jailed for life for murder.
After Bleddyn King was told he will serve at least 28 years, his family and police warned of the dangers of meeting strangers over the internet.
King, of Abercynon, killed David Evans in Pentyrch, near Cardiff, and used his mobile phone to film his body.
The judge told him at Cardiff Crown Court that he was "evil and dangerous".
After the case Mr Evans's son Richard said: "My father met his murderer over the internet, which I hope will serve as a warning to others who meet strangers in this way."
Det Chief Insp Ceri Hughes of South Wales Police said: "David Evans was highly respected in the community and deeply loved by all his family.
"The brutal murder of such a gentle and trusting man tragically highlights the dangers of meeting strangers over the internet.
"David's family have shown tremendous dignity and, while they remain devastated by what has happened, I hope the verdict and today's sentencing helps them in someway to move forward."
King was left covered in Mr Evans's blood after the attack.
The court was told that he made a chilling soundtrack on a two-minute video of the murder scene.
Powerfully-built King pulled a knife on Mr Evans and stabbed him so forcefully the blade was left bent, the court heard.
King was convicted on Monday after a 10-day trial.
Judge Mr Justice MacDuff said: "David Evans was in the sanctuary of his own home when you committed a wicked attack on him."
The judge said King tricked his way in and "gained his confidence" before murdering him.
Mr Justice MacDuff added: "You targeted this kind mild man because he was not a match for you. He lived alone and would be easy pickings.
'Lost soul'
"You punched, cut and stabbed him to death. It was a vicious, brutal attack - the fear and pain he must have felt in his dying minutes is unimaginable.
"It is wickedness beyond comprehension - you are evil and dangerous."
King's video of the death scene was too horrific to be shown to the jury.
Mr Justice MacDuff told the court he saw it for the first time just moments before sentencing King.
He said: "That recording is a chilling record of your wickedness. You filmed yourself stamping repeatedly on Mr Evans's face as you shouted obscenities."
During the trial, the court heard that King killed Mr Evans's cat before setting his home on fire and escaping.
But police stopped him as he drove off in the victim's Citroen car and he was found to have two bank cards belonging to his victim in January.
Michael Mather-Lees QC, prosecuting, said: "After he was dead, King videoed his body while giving a dialogue of what he had done and why he was doing it.
"He made the video to scare people he may have owed money to. The film was made to instil fear of him in somebody else."
Mr Evans, a retired RAF fireman, was described as a "lost soul" since the death of his wife in 2008.
He met King on a gay website and invited him to his home.
The court heard that King was desperate for money after being turned down for 10 bank loans on the day of the killing.
The judge paid tribute to Mr Evans's family for their "grace and compassion".
After Tuesday's court hearing, Janine Davies, of the Crown Prosecution Service, said King's arrest was a result of swift and decisive action by an off-duty police radio controller, who noticed and reported his erratic driving late at night.