Cwmcarn High School: Union calls for HSE asbestos probe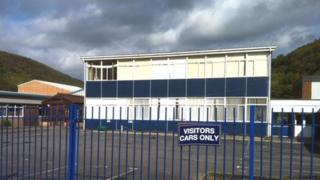 A teaching union says it has asked the Health and Safety Executive (HSE) to investigate the discovery of asbestos at a south Wales secondary school.
The 900-pupil Cwmcarn High School was shut late on Friday after a structural report identified the material.
Geraint Davies of NASUWT Cymru said he wanted the HSE to confirm that correct procedures are adhered to.
The HSE said it was looking to whether there are grounds for a full investigation.
Meanwhile, Welsh Liberal Democrat leader Kirsty Williams has called for a national audit of asbestos in schools in Wales.
Caerphilly council has said public health officials would report on the situation at the school on Tuesday.
The announcement that the school was to close with immediate effect came on Friday afternoon.
The council said the action had been taken to safeguard the health and wellbeing of pupils and staff.
Mr Davies told BBC Wales on Tuesday: "In simple terms this is a health and safety matter and the Health And Safety Executive provides independent advice on such matters.
"In view of the seriousness of what has happened at Cwmcarn it's only fair to all concerned, be it teachers and anciliary staff, parents and pupils and indeed the council itself, for such independent advice to be available."
An HSE spokesman confirmed: "We are looking into the issue of asbestos at the school. We have to see whether there are grounds for a full investigation."
NASUWT spokesman Rex Phillips had earlier raised safety concerns, saying high levels of the material had been found throughout the building.
He said staff and pupils at the school could have been exposed to airborne asbestos.
Mr Phillips said the problem was found when a company visited the school to carry out a survey on a boiler room.
'Hidden killer'
He said the asbestos was found to be in airborne particles, with two-thirds of the school "inoperable".
"They have taken the action to close the building because of that and they have virtually got a sealed building at the school," he added.
In the wake of the closure Ms Williams called on the Welsh government to conduct a national audit of asbestos in schools.
"Asbestos is a hidden killer and I am very concerned that pupils, staff and teachers at our schools could be unknowingly exposed to asbestos," she said.
"I do not want to cause undue alarm, however when a school of 900 pupils has had to close because asbestos was found in airborne particles, I think that people across Wales have a right to know if asbestos is a danger in their local school."
The Welsh government has been asked for comment.
Caerphilly council said the latest updates would be announced on its website.
It added that it was working with the school's senior leadership team and governors to explore alternative arrangements for pupils and staff, but this was unlikely to be resolved this week.
The authority said every effort was being made to accommodate pupils in years 11, 12 and 13 as a priority.
It is reported that pupils at the school have been given work to do at home via social networking sites.
Parents with pupils at the school reacted to the closure in Cwmcarn on Tuesday.
Natalie Stock, whose 12-year-old son Jake is in Year 8 said: "The closure of the school was a shock. I don't think they've handled it too well."
With regard to the presence of asbestos at the school she said: "Everybody knew about it but I'm glad they are getting rid of it."
Her sister Jolene White, 33, whose 12-year-old daughter Olivia is a a year 7 pupil, said: "It's a bit of an inconvenience.
"She thinks it's brilliant having extra time off school.
"Obviously their safety has to come first. I would rather they didn't have to close it down so they could sort it out.
"I don't like the ideas of the school being closed permanently."