Cardiff council to make £75 abandoned trolley charge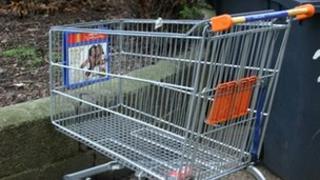 Supermarkets in Cardiff could face a £75 charge for every abandoned shopping trolley in the city.
Councillors want to try to rid the city of hundreds of trolleys stolen from stores.
The numbers have increased since the 5p plastic carrier bag was introduced last October, and some trolleys are found miles from the supermarkets.
The Welsh Retail Consortium says the policy will penalise supermarkets. A three-month consultation is starting.
The council is planning to take action under the Clean Neighbourhood and Environmental Act 2005.
It will seize and remove abandoned trolleys and store them for up to six weeks, while serving a notice on the owner telling them trolley will be disposed of if it is not claimed.
'Rundown feeling'
The £75 charge will cover the removal, storage and disposal of the trolleys.
Cardiff's executive member for environment, Councillor Ashley Govier, said that as well as being a litter nuisance, abandoned trolleys were damaging cars and, in some instances, even injuring children.
He would like the authority's partner agencies - including the police - to address the problem further.
"The taking of shop trolleys is theft and we condemn this behaviour.
"Once dumped, these trolleys are unsightly and bring a rundown feeling to an area which in turn attracts further litter and fly-tipping as well as encouraging anti-social behaviour.
He said trolleys can also harm wildlife and if dumped in rivers and they can also create a flood hazard.
'Unacceptable and illegal'
Mr Govier said he believed the 5p carrier bag charge was just one factor in the increasing numbers of trolleys taken.
He added, "With this policy, we will be working with retailers to ensure they take greater ownership of their trolleys and take action if they don't thereby improving the visual appearance of an area, reducing waste and litter and its associated anti-social behaviour.
"We will also work with the stores to explore theft-prevention measures and get the message out that stealing trolleys is unacceptable and illegal."
But Mark Ross, director of the Welsh Retail Consortium, said: "If you say this is supermarkets' fault - you are blaming the victim. It's like saying shops cause shoplifting by having shelves of goods.
"A trolley can cost a retailer £150 to buy - they don't want them stolen. They often have deposit schemes or grids at car park exits to make it less likely they will be stolen. It is the people who steal trolleys and dump them who are to blame. Usually if anyone calls a store's customer service line the retailer will go and collect the trolley.
"Retailers actually have a good record on working with local authorities to prevent theft and recover stolen trolleys. That is usually a more successful approach in those areas where this is a problem than arguing about whose fault it is or simply trying to pass the bill on to someone else."