Cwmcarn High School asbestos: Parent and pupil concerns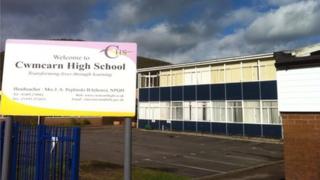 The roads leading up to Cwmcarn High School are eerily quiet and empty.
Just when the air should be filled with the sounds of children in the playground there is only the hum of traffic from the A465 passing by.
At lunchtime, pavements would normally be filled with teenagers in a uniform of red, white and black, milling about, many off to the nearby village to buy snacks from stores and food outlets.
But there is only one to be seen: Nadia Yamamoto, 15, out riding her horse, Layla.
It was not a normal school day for Nadia. But neither was it for the other 900 pupils as their school closed suddenly without warning last Friday after asbestos was discovered following a structural investigation.
Pupils and parents have been left mystified and wondering what will happen next.
On Monday night, older pupils began receiving a link to homework on Twitter but that has not been helpful to all.
"I don't have a Twitter account," said Nadia. "I will have to set one up when I get home."
"I am out horse riding because there's nothing else for me to do. The worst part of it for me is not knowing when we're going back.
"There's no real motivation to do school work at home."
Nadia's mother, Sally, wants all the children to be checked for asbestos.
"My concern now is will her lungs be filled with asbestos in 40 years' time," she said.
The closure of the school has had a significant impact on Cwmcarn and other nearby communities where pupils live.
Colin Hart, 40, from Risca, has a daughter, Shaunne Lee, 16, at the school.
Sales slump
He said: "I want her back in school.
"It's an important year for her, she's doing her A levels. We don't know how long it will be shut... She wants to go to school."
Mother-of-three Lorraine Morgan has an 11-year-old son, Jordan, who is now at home.
"It was very inconvenient because it was done so suddenly," he said.
"I'm not worried about the asbestos, it was known it was there. You wonder why it wasn't dealt with previously.
"He's out playing with his friends now, he thinks it's cool, but I do not want him to go without school."
Joanne Barrett who runs a nearby cafe, Chat 'n' Snack, says 80% of the business comes from sixth formers at the school. Since Monday they have not seen any.
"They're always coming in here having the cooked breakfasts," she said.
"Only the sixth formers are supposed to come down, but we sometimes have Year 11s coming in.
"The village is quiet."
Carol Brimble, 63, was a cleaner at Cwmcarn for 30 years before retiring in 2005. She said staff had always known there was asbestos at the school, including being told through stickers on the walls.
"I did not think it was that bad they had to close the school," she added.
"We were told that as long as it was not disturbed it was ok."
There was better news on Tuesday with the announcement that the school will partially reopen on Friday.
But the repercussions of what is happening in Cwmcarn are about to be felt across Wales as all schools are ordered to deliver a report on their asbestos levels by next week.