17 horses found at Vale of Glamorgan tennis courts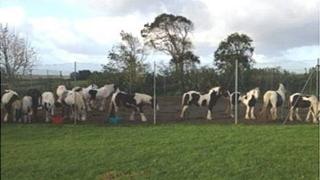 Around 17 horses have been found on tennis courts in the Vale of Glamorgan.
The animals were left at Colwinston Community Centre, leaving the council to move them to a more suitable site.
Vale of Glamorgan council is investigating where the horses came from and if the owner does not come forward within 14 days they will be classed as abandoned.
The council can then remove and sell them.
Notices will be placed at the community centre, in line with section 7 of the Animal Act 1971.
The horses are being cared for by the council's parks and grounds department.