Cwmcarn High School: High asbestos levels, says NASUWT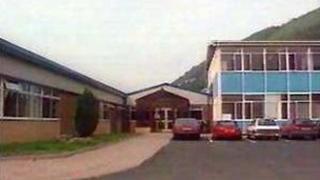 High levels of building materials containing asbestos have been found at a high school which closed unexpectedly, says a union official.
Cwmcarn High School in Caerphilly county, which has more than 900 pupils, shut late on Friday after a structural report identified asbestos.
Rex Phillips, of NASUWT Cymru, said the council will look to speak to parents.
Health officials are analysing report results and the council will make a further statement on Tuesday.
The council said public health officials were due to offer their views on Tuesday.
Education officials, teaching staff and engineers discussed the situation on Monday.
The announcement that the school was to close with immediate effect came on Friday afternoon.
The council said the action had been taken to safeguard the health and wellbeing of pupils and staff following a structural report at the school.
The decision was taken after a structural report identified asbestos.
Mr Phillips attended Monday's meeting, and said the problem was found when a company visited the school to carry out a survey on a boiler room.
"They found... high levels of asbestos right throughout the building," Mr Phillips said.
'Airborne particles'
He said the asbestos was found to be in airborne particles, with two-thirds of the school "inoperable".
"They have taken the action to close the building because of that and they have virtually got a sealed building at the school," added Mr Phillips.
"But our primary concern this morning was for the health and safety of the pupils and staff."
He said school cleaners had asked questions and been advised to register their possible exposure to asbestos as an industrial injury.
"I know the local authority will be looking to speak to parents.
"No-one wants to be alarmist about this, but whenever there is asbestos there is always a risk."
Caerphilly council said earlier on Monday that it was working with the public health service to analyse the findings of the structural report.
"It is anticipated that the public health professionals will provide their views on the findings within the next 24 hours," said the council.
Leadership team
"The council is currently working with the school's senior leadership team and governors to explore alternative arrangements for pupils and staff, but this is unlikely to be resolved this week.
"Every effort is being made to accommodate pupils in years 11, 12 and 13 as a priority."
The authority said later on Monday: "Caerphilly council are not offering a further statement tonight - but will be looking to provide an update tomorrow."
In a letter, head teacher Jacqui Peplinski has sought to reassure parents.
The head teacher said she learned of the decision to close the school only at 14:45 BST on Friday.
Caerphilly council said the latest updates would be announced on its website.