Cardiff After Dark nightlife photos go on show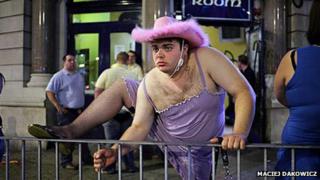 A controversial collection of photo depicting Cardiff nightlife is going on show in the city for the first time.
When the pictures first appeared online a national newspaper described them as a "collage of shame" that showed binge-drinking Britain at its worst.
Photographer Maciej Dakowicz said the scenes reflected Britain's vibrant night street life.
The images are on show at the Third Floor Gallery in Cardiff until December.
"I was just trying to portray the British nightlife the way I saw it," the Polish-born photographer told BBC Radio Wales.
"When I came to Cardiff in 2004 it was the first time for me in Britain, so I had never experienced such vibrant nightlife before.
"It was just a natural thing to take my camera out and to start photographing that, and just portray the way it is.
"If you go through the book - because all these photographs are in a book now - you will see that there are different moment, different emotions, different behaviours captured there.
"It is not only about people who have had too much to drink - it is also about people who are having a good night out, basically."
Street tradition
Some of the images have already been exhibited in Poland and at a street photography exhibition in the United States.
Joni Karanka, founder and trustee of the Third Floor Gallery, said he had been following the development of the photographic project.
"It is actually a great piece of work," insisted Mr Karanka.
"It kind of ties in with the previous tradition of street photography.
"What you will find are millions of completely unexpected and surreal moments.
"There is a touch of humour, there's sadness, and somehow it actually manages to capture what nightlife is like."
The photographer, who is now based in London, has also rejected allegations that he has portrayed Cardiff in a poor light.
"I don't want people to talk only about the pictures showing something negative," said Mr Dakowicz.
"I want people to see the whole story. I think Cardiff is a great place for a night out - and I think people will think the same after going through the book."