Newport pool reopens after cryptosporidiosis cases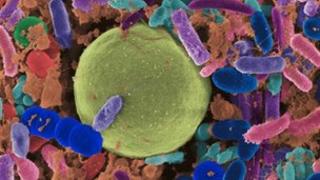 A swimming pool which shut last month after 20 people were infected with a water-borne bug is being reopened.
Newport Centre swimming pool was closed by the city council after the cases of cryptosporidium were confirmed.
The council said it was "100% satisfied everything is in order" after the pool was drained and re-grouted.
Public Health Wales (PHW) has urged swimmers to adopt better hygiene after seeing a rise in cases of the bug, which can survive chlorine in pools.
PHW gave the pool a clean bill of health last week after tests revealed no further presence of the bug.
The local authority said independent engineers had been brought in to advise on maintenance work ahead of the pool's reopening at 13:00 BST on Saturday.
It said the pool's filters had been rebuilt with the filter manufacturer to maximise their efficiency.
Once the pool was drained, grilles were replaced and the pool was re-grouted. In addition, the pool hall's lighting was replaced.
The fresh pool water was then chemically treated prior to re-testing, it said.
Sheila Davies, Newport council's corporate director for environment, said: "We have always stated that the pool will only reopen when we and the outbreak control team are satisfied that it is safe to do so and we have now reached that stage.
"Council officers have been working directly with, and in full cooperation with Public Health Wales, independent pool operations experts, independent engineers and filtration manufacturers to resolve the situation.
"Officers have also been working with colleagues in environmental health.
"We have complied fully with all recommendations and procedures and we are now 100% satisfied everything is in order."
Symptoms
PHW has said it had 283 confirmed cases of cryptosporidium by the end of September this year, compared to 248 for the whole of 2011.
Although cryptosporidium can also be picked up from unclean drinking water, eating contaminated food or through other contact with faeces, PHW believes much of this year's rise can be linked to swimming pool use.
The organisation says people diagnosed with cryptosporidiosis should not swim for 14 days after their symptoms have ceased.
Other advice includes not swimming while suffering from diarrhoea and waiting for 48 hours after symptoms have ended before returning to the pool.
Swimmers should also not swallow pool water and ensure young children use the toilet before entering pools.