Cardiff air route to Dusseldorf with Lufthansa expected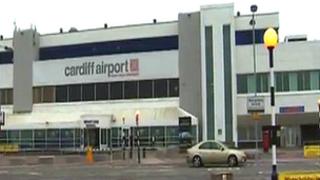 A new air route between Cardiff and Germany is expected to be announced next week.
The Lufthansa service to Dusseldorf will be a boost to Cardiff Airport, which is being rebranded in time for next summer.
The western German city, capital of the North Rhine-Westphalia state, is a major commercial centre and close to other large cities such as Cologne.
The weekly flights are due to start on 4 May.
Cardiff Airport would not confirm the new route yet, saying it was "speculation", while Lufthansa said any announcement would be made through the airport.
But tickets can already be bought on the Lufthansa website.
The airport posted an operating loss of £319,000 in 2011 but there has been better news in recent weeks.
Low-cost airline Vueling announced it was offering a new route between Cardiff and Malaga in Spain following demand from passengers and travel agents.
And First Minister Carwyn Jones said last month a programme had been approved to "rebrand and refresh" the airport in time for next summer.
He said the airport was moving in the right direction having previously been highly critical of its management. It is owned by Spanish company Abertis.