Cardiff half marathon: Runners take to city streets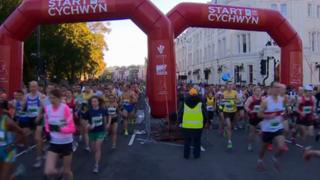 More than 18,000 runners have taken to the streets of Cardiff for the city's annual half marathon.
Amateur and elite athletes ran the new 13.1 mile (21km) course on Sunday starting at Cardiff Castle.
The route included Penarth marina, the bay and Roath Park before finishing at City Hall.
Kenyan runner Andrew Lesuuda crossed the finish line first in just under 63 minutes, a record time for the Cardiff event.
Commonwealth marathon champion John Kelai and reigning Cardiff half marathon winner Edwin Kiptoo were among those at the start.
"It's a whistle-stop tour of the beautiful city," said event manager Rachel Madge in advance of the run.
"It's a fantastic new course, we're very pleased with it and we're hoping this will be a confirmed course forever because we've had to change it a lot over the years."
Landmarks
The course began at Cardiff Castle and continued through Canton to the Cardiff City Stadium and then Penarth, returning via the barrage to Cardiff Bay, then Roath and Cathays before finishing in Cathays Park.
Ms Madge said the course had been designed in partnership with Cardiff council to cause the "minimum disruption".
She added: "It started with 1,500 runners ten years ago and now we're up to over 18,000.
"It's a whole year-round operation in a small-core team and lots of committed volunteers on the day."
The race is now in its 10th year.
In 2010 it hit controversy when the course was too short by 193m (211 yards).
Organisers apologised and blamed a last-minute "urgent decision" to change the route on safety grounds due to an obstruction on the course.
Some of the road closures will remain in place until 18:00 BST on Monday.