Lift is open for Cardiff Castle visitors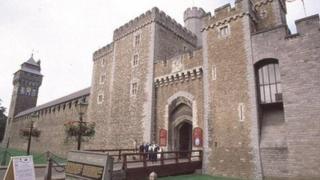 Disability rights campaigners have heralded the opening of an accessible lift at Cardiff Castle as a breakthrough for Welsh heritage sites.
Since it was built in 1868, the only way to the second storey of the Butes' Victorian mansion has been via a spiral staircase.
But the new lift means upper rooms can now be reached by wheelchair users.
Disability charity Diverse Cymru said it showed what can be achieved at a landmark location.
Diverse Cymru's development director, Michael Flynn, said that if a structure spanning over 1,800 years of architecture can be made accessible, than anything can.
"On the face of it, the launch of a lift may not seem terribly exciting to the general public, though there are two things which make this opening particularly symbolic."
"Firstly it is an initiative driven by our members. They told us that the landmark building in the capital ought to be accessible to them, and in conjunction with our partners, we've been able to make it happen."
"But secondly we've set a precedent. From now on nobody will be able to use the excuse of the difficult architecture or historical integrity of a building, in order to weasel out of opening it up to the whole of Welsh society."
Architectural history
The project was a joint initiative by the Welsh government's listed building body Cadw, Cardiff council and Diverse Cymru.
The new lift was designed to by sympathetic to the surroundings of the castle, which itself incorporates structures spanning Roman remains dating to circa 55 AD, up to relatively modern 1930s adjuncts.
"Diverse Cymru takes the 'Cymru' just as seriously as the 'Diverse', and the last thing we'd have wanted to do was dump some awful, out-of-place monstrosity in the middle of that fantastic architecture," added Mr Flynn.
"But that's not an excuse to do nothing. The design we've come up with between us, is an unobtrusive glass lift, which when it's not being used, retracts into the floor of the banquet hall, and is even covered over with the same tiles as the rest of the room."
"Now we've proved what's possible, we have to use that same imagination to tackle other landmarks around Wales."
The lift was officially opened by Paralympic cycling gold-medallist Mark Colbourne.