Dementia care plan for retirement village at Llanfoist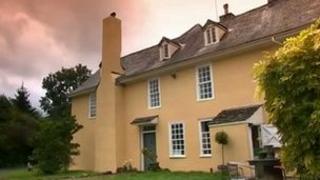 A retirement village in Wales with an on-site dementia centre is planned for farmland in Monmouthshire.
The £33m Grove Community project at Llanfoist, near Abergavenny, would be capable of housing 100 residents and could create up to 250 jobs.
The continental-style centre would offer one-to-one care and be financed by pension funds and a Swiss bank.
Ben Jones, the man behind the venture, said it was aimed at keeping couples and families together.
"Should one partner develop dementia, they'll not be that far away for the other partner to visit on a daily basis," he said.
"We hear all the time about partners being taken from their loved ones and situated miles away, so having a dementia unit will mean a lot to a lot of people."
Other elements of the project include a swimming pool in the barn, a restaurant alongside the lake and medical centre in the farmhouse.
Of the 225 bedrooms, flats and cottages, 100 will be sold to private individuals with the rest being offered to the state sector, including NHS patients.
Residents with dementia would pay up to £800 a week to stay there.
Prof Julie Williams, a leading figure in Alzheimer's research at Cardiff University, said addressing the illness in a community setting was a welcome improvement.
"If they can be in an environment where there are other families with dementia, where perhaps you can take people who have dementia developing in their fifites or sixties, that's an issue that we don't deal with very well," she said.
"You would hope there are people thinking about this, and this is probably the first example in Wales of this sort of initiative."
The Alzheimers Society says the typical person with dementia in a care home spent just two minutes every six hours interacting with other people.
There has been some local opposition to the proposal, which is not currently in Monmouthshire's local development plan (LDP), and which has no new provision for elderly care.
Martin Hickman, the Conservative councillor for the Llanfoist Fawr ward, backs the proposals, but said some people think there had already been too much building in the area.
"There are a few people against it," he said.
"I think there's been a lot of development in this area and people are wary, that they don't want too much more."
However, he thinks the lack of new elderly care provision in the LDP should be addressed.
"It should be re-looked at. We are an ageing country and county - it's necessary".