Bridgend gate death: Accident verdict on Karolina Golabek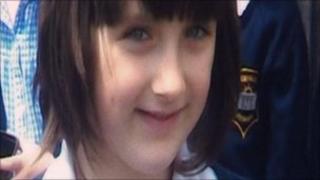 An accidental death verdict has been delivered at an inquest on a five-year-old girl crushed by an electric gate.
Karolina Golabek was killed by the gate fitted at new flats in Bridgend on 3 July 2010.
The inquest jury was told that two new motors had earlier been fitted to the gate at Brook Court near to where she lived.
They also heard that the gate had been poorly installed as it had been built on a slope.
The jury heard that Karolina, described as a happy and clever child, had last been seen by her father at 16:00 BST on the day she was crushed.
She was rescued by a resident of the flats half an hour later and was taken to the Princess of Wales Hospital, Bridgend, where she died.
The gates were installed in September 2006.
A new motor was fitted in May 2008 but residents had complained about faults with the gate before Karolina's death.
The motor that drove the gate had been replaced by another with a force twice as strong as the original.
The inquest was also told a safety feature on the motor had not been checked.
The jury recorded a verdict of accidental death, contributed to by an unsafe gate and caused by a series of failures, inadequacies and omissions to adhere to safety standards.