£12m car park at University Hospital Llandough, Cardiff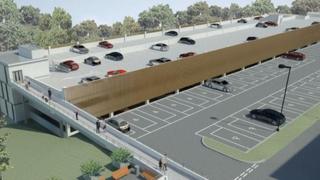 Work is under way on a £12m multi-storey car park at University Hospital Llandough in Cardiff.
The car park will create an extra 150 spaces, taking the total to 1,120.
The hospital said the work would allow it to progress plans for a 135-bed adult mental health unit to be built on the site of the existing car park.
Hospital spokesman Geoff Walsh said there would be disruption but it is hoped the car park will be ready by September 2013.
Mr Walsh, the Cardiff and Vale University Health Board's assistant director of planning, said: "There may be some disruption on the site during construction but we're working on a number of ideas to minimise.
"As part of the planning application we have permission to create a dedicated entrance for construction traffic at the Merry Harriers interchange which should help to reduce the impact of the work on those working and visiting the hospital.
"University Hospital Llandough has benefited from millions of pounds of Welsh government investment in recent years and the car park could be the catalyst for more to come."
The Cardiff and Vale University Health Board is working with the Welsh government and Vale of Glamorgan council on plans for a new mental health unit on site.