Karolina Golabek crush death gate was 'poorly installed'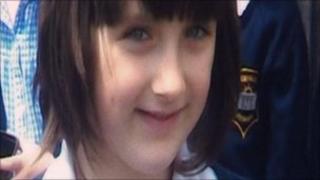 The gate that killed a five-year-old girl from Bridgend was "poorly installed", an inquest jury has heard.
Karolina Golabek was crushed by the gate fitted at the new flats where she lived on 3 July 2010.
The hearing was told there had been a history of problems with the gate as it was constructed on a slope.
A statement from Karolina's late father Jozef Golabek said she was a happy, healthy and clever child. The inquest in Aberdare continues.
The jury was told that gate was installed in September 2006.
It was around three metres (10ft) high and would slide back into the wall to open. Residents could open and close it with a remote control style key fob.
Geraint Sewell of construction company JB Leadbitter Ltd said that the gate had been a later addition, to make flats more "sellable" as it would mean that the car park was restricted to residents parking only.
But there had been a series of faults with it since it had been installed by Automation Gates Ltd, the hearing was told.
'Stop and reverse'
Two replacement motors had to be fitted to the gate. Rowen Williams, from a different company, added the second motor, which was the one in place when Karolina died.
Mr Williams told the inquest he thought the gate had been "poorly installed" as it had been built on a slope.
The safety features of the gate included a photocell beam which would sense if a car was in the way and would prevent the gate closing on the vehicle.
Another safety feature was a "stop and reverse" system, which meant that if something blocked the gate it would automatically open again.
However, the inquest was told that only a basic test, using just a hand, was employed at that time to check if that worked.
The jury was told that more stringent risk assessments and tests were now in place.
Another company, called Tremorfa, was responsible for the maintenance of the gate from 2009. One of its employees, Karl Parker, said he checked the gate just two months before Karolina's death.
However, he told the jury that he had not been responsible for checking that "stop and reverse" safety feature.
Jason Lee, another employee of Tremorfa, carried out a routine service in November 2009.
He told the inquest that he could not remember much about the gate, but said it was unusual because it went up an incline.
'Happy' child
Powys coroner Louise Hunt read a statement from Mr Golabek, who passed away less than a year after Karolina's death.
It said that she was a happy, healthy and clever child who had attended Penybont Primary School.
She would often play with kittens, which she called her friends, in a garden near Brook Court, it said.
Mr Golabek described her as having a normal childhood and on the afternoon of her death, 3 July 2010, they had been watching television together.
Karolina then sat on the front step of their home eating strawberries and ice cream before she wandered off.
Her father last saw her at 16:00 BST that afternoon, the hearing was told.
Brook Court resident June Phillips told the inquest she was driving home at 16:30 BST that afternoon when she saw that Karolina had become trapped.
She told the inquest that she lay Karolina gently on the ground and had tried giving her mouth-to-mouth resuscitation when she saw that she was unconscious.
Paramedics were called, who took her to the Princess of Wales Hospital in Bridgend, where Karolina died.
The inquest continues.